Rewards waiting game on after merchant fees cut
When the interchange fee cap took effect in April 2015, limiting how much card issuers could charge businesses for processing transactions, some experts worried that issuers would cut rewards programs to make up for the lost profits. But it seems that rewards are here to stay -- at least for now.
Analyst Patrick Sojka had predicted scaled-back rewards before the cap took effect. He now concedes that not only have most card features remained intact, some issuers are enriching their premium perks.
For instance, in May 2015, BMO launched the CashBack World Elite MasterCard featuring an industry-high 1.75 per cent cash back on all purchases.
At the other end of the spectrum, Stephen Weyman, founder of HowToSaveMoney.ca, cites Capital One's rebranded Aspire Travel World Elite MasterCard as the product with the biggest roll-back in extras since the interchange fee cap announcement. The card's sign-up bonus dropped from 35,000 miles (worth about $350) to 10,000 miles (worth $100), while its annual loyalty bonus of 10,000 miles was yanked.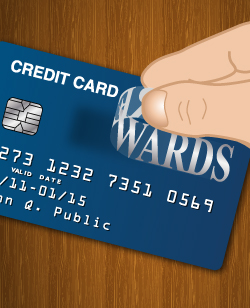 Why rewards should be generally safe
Pointing out that the interchange cap represents a relatively modest 10 per cent reduction, Weyman anticipates only minor adjustments to rewards programs. The only unsustainable rewards cards will be those that were turning a borderline profit before the cap.
Queen's University marketing professor Ken Wong adds that severe competition in Canada's credit card industry prevents issuers from tinkering much with rewards and other cardholder perks. "Canadians have too many options and with most people carrying multiple cards, if you do anything to disenfranchise them -- they're gone," says Wong.
Card providers have other alternatives to compensate for a shortfall in interchange revenue, including raising cardholder fees, interest rates and late payment penalties. Sojka has already noticed slight changes in consumer costs on some rewards cards. For instance, he says a handful of rewards cards that he monitors have raised APRs from 19.5 per cent to 19.99 per cent.
"That may not seem like a lot, but there are a lot of people out there who carry balances so that extra half of a percent may more than make up for what card issuers lose on the interchange fees," says Sojka.
Which consumers are most likely to see change?
An executive from one of the big six banks told Sojka that the bank was going to wait at least half a year to see what happens in the card rewards space, and then perhaps make some changes.
Canada's big banks can afford to delay because rewards are scale-sensitive: the bigger the customer base, the cheaper it is to provide rewards in bulk. Smaller banks and credit unions may be forced to take action more quickly to protect their bottom lines.
Still, it would be an oversimplification to think that the interchange cap will have the same effect on all rewards cards from any one issuer. "The impact will depend upon the distribution of cardholders by factors such as income level and type of reward because they influence which merchants the issuers get their interchange fees from," explains Wong.
In other words, consumers who frequent merchants that carry more expensive goods rack up higher charges, leading to higher interchange fees.
Another critical factor is that the fee cap is calculated as an average of interchange fees charged on all of a particular issuer's credit cards (including those without rewards), allowing issuers to be selective about specific rewards card portfolios they decide to modify. Sojka expects issuers will first drop the perks on lower-end cards -- those with rewards returning from a half to 1 per cent and without annual fees.
That's because competition among premium cards is so intense that issuers can't afford to dilute their high-end rewards offerings.
Proactive cardholder tips
The most obvious way to guard your point earnings is to keep an eye on your account to make sure your credit card doesn't have its rewards pulled.
To monitor available rewards and benefits on other cards, Financial Consumer Agency of Canada (FCAC) spokesperson Natasha Nystrom encourages consumers to visit the FCAC card selector tool, which links to the latest information about perks for each of the more than 180 rewards cards listed.
The FCAC ensures that federally regulated financial institutions provide customers with an effective complaint-handling process. However, the compliance watchdog doesn't get involved in resolving individual disputes.
For rewards complaints involving a potential financial loss or reduction in monetary value, consumers can escalate their concern to one of two independent dispute resolution services. RBC or TD credit card holders should contact ADR Chambers Banking Ombuds Office.
For rewards problems involving other card issuers, Tyler Fleming, director of strategy and stakeholder relations for the Ombudsman for Banking Services and Investments (OBSI), says his agency may be able to help. According to Fleming, the OBSI can investigate and make recommendations about possible financial restitution for unresolved cardholder complaints related to rewards.
See related: What the interchange fee cut means for consumers; How to optimize rewards beyond double-dipping
Updated April 28, 2016
Most recent All credit card news Stories