Is Debtors Anonymous the right choice for you?
Debt addiction can have serious consequences: continuously obsessing about money problems can harm your mental health and destroy relationships. Knowing where to go for help poses another challenge, particularly if you're emotionally fragile.
Enter Debtors Anonymous (DA). Members of the international nonprofit discuss their personal experiences with debt addiction, listen to stories of experienced members who have learned how to handle their debt and form a plan to start on the road to repayment.
"Debt is a taboo topic in many cases," says Eric Spence, a spokesperson for Consolidated Credit Counseling Services of Canada. "Sometimes, support groups are the only place people feel comfortable talking about it."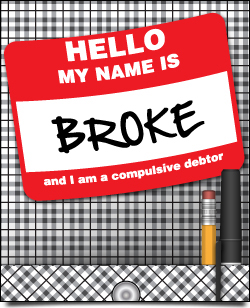 Do you need debt help?
Questions to ask yourself
Are your debts making your home life unhappy?


Does the pressure of your debts distract you from your daily work?


Are your debts reflecting your reputation?


Do your debts cause you to think less of yourself?


Have you ever given false information in order to obtain credit?


Have you ever made unrealistic promises to your creditors?


Does the pressure of your debts make you careless of the welfare of your family?


Do you ever fear that your employer, family or friends will learn the extent of your total indebtedness?


When faced with a difficult financial situation, does the prospect of borrowing give you an inordinate feeling of relief?


Does the pressure of your debts cause you to have difficulty sleeping?


Has the pressure of your debts ever caused you to consider getting drunk?


Have you ever borrowed money without giving adequate consideration to the rate of interest you are required to pay?


Do you usually expect a negative response when you are subject to a credit investigation?


Have you ever developed a strict regiment for paying off debts, only to break it under pressure?


Do you justify your debts by telling yourself that you are superior to the "other" people, and when you get your "break" you'll be out of debt overnight?
What is Debtors Anonymous?
DA offers collaborative but disciplined assistance centered on the same principles as the Alcoholics Anonymous 12-step recovery program. Experienced DA members share the lessons they've learned with other participants to show them they are not alone in facing their financial demons. Members are known by first name only, for confidentiality. Meetings and membership are free.
Eighteen DA groups across Canada hold regular face-to-face meetings at churches and community centres in cities including Calgary, Hamilton, Ottawa, Toronto and Vancouver. Canadians can also participate in global telephone conference call meetings.
All DA meetings use the same basic format:
Welcome and introductions;
Readings -- groups may pass out informational documents, such as the 12 Steps of DA or the 12 Tools of DA;
Discussion topics -- attendees are asked to share insights and experience on these topics, though there is no requirement or pressure to speak.
Another important DA tool is a spending plan. Although a spending plan tracks income, the organization eschews the term "budget," which can imply deprivation, similar to a starvation diet. Creating a spending plan forces you to organize expenses into monthly categories so you know precisely how much you owe at all times. It also shows you how to live within your means.
DA encourages a buddy system in form of sponsors. These are experienced participants who guide you through the 12 steps while empathizing with your situation based on their own experience, strength and recovery.
Pressure Relief Groups allow you to collaborate on the phone with two recovering debtors who have not incurred unsecured debt for at least 90 days. They help create and then tweak your spending plan as well as create a clear action plan to improve your financial situation.
DA groups also assist members to work with creditors and prepare repayment plans.
How to know if DA is right for you
DA provides 15 assessment questions you should ask yourself to determine if you are a chronic debtor. Questions delve into whether you give false information to obtain credit, make unrealistic promises to creditors, and think less of yourself because of debt.
Answering "yes" to at least eight of those questions can indicate that you have, or are well on the way to having, a problem with compulsive debt. DA has also published signs of compulsive debting to help you identify symptoms of debt addiction, including borrowing from one credit card to pay another or not saving for predictable expenses.
Although DA has clearly defined rules meant for anyone to follow, the program is not a magic solution. Meetings can become highly emotional when individuals touch on sensitive subjects, which in turn could make other participants uncomfortable.
"We generally suggest that people try six DA meetings, then decide whether they feel like the program will be successful [for them]," says a DA public information representative.
Member testimonials
Lucas, who runs DA's online Spenders Recovery chat group, has personally overcome dependencies on both alcohol and drugs in addition to his debt addiction, which he describes as the most challenging disease. After surviving a difficult childhood, Lucas squandered money as a way to drown his fear of going without material things, which he had grown to confuse with his fear of not being loved.
Dealing with an emotional void is what DA is all about according to Lucas, who adds he overspent to try and feel complete. "All my wasteful spending was a subtle attempt to find happiness outside myself," notes Lucas. "And of course, those spending sprees always failed."
Mike, a member of the Eastern Ontario DA group, started attending meetings when he was in his early sixties. He had hit rock bottom carrying a huge unsecured debt hidden from his wife, who assumed the couple was heading into a leisurely retirement.
An accountant, Mike began his first DA meeting thinking he could impress others with his professional knowledge. When he volunteered to read the Signs of Compulsive Debting, he started to cry and wasn't able to finish the reading.
Mike has been debt-free since 2012 and now has only a small mortgage remaining (mortgages are acceptable in DA).
What keeps Mike coming to DA meetings is that he never wants to re-experience the feelings of shame, fear and chaos that his chronic debt caused.
"My life now is clear, honest, without fear and serene -- and there are other stories like mine," he says.
See related: Credit cards raise stakes for online gamblers; Clear your clutter, improve your finances
Published May 28, 2014
Most recent All credit card news Stories