Is your credit card trip insurance enough?
When you book a getaway, chances are you're paying for it with your credit card. So when your booking service offers you travel insurance, may be tempted decline, thinking your credit card's travel insurance has you covered. But before you shrug off extra protection, make sure your card does indeed come with insurance, and that it covers everything you might need.
Canadians are lukewarm when it comes to travel insurance. In a May 2013 BMO insurance poll, 83 per cent of respondents said they planned to travel in the near future, but only half of them said they regularly purchase travel insurance before they travel.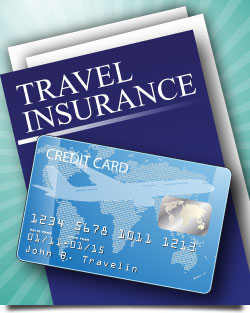 A 2011 RBC poll suggested that a majority of young Canadians forgo travel insurance because they think their provincial health coverage will bail them out if they need it in the U.S. or out of province. But, according to Martin Firestone, an insurance broker and president of Toronto-based Travel Secure Inc., the biggest problem is that many people believe their credit card insurance is enough.
Sometimes it is. Credit cards can cover trip interruption, lost baggage and medical coverage if you book the trip on that card (though with more limitations than alternative insurance policies). Most cards also offer added protection such as extended warranties, damage protection and theft of purchases within allotted timeframes.
Stephen Menon, associate vice president of credit cards at TD Canada Trust, says credit card insurance policies can do the job in some cases, but other times, you might want to consider agreeing to extra coverage.
Credit card insurance doesn't take your health status into account
Unlike other travel insurance policies that make you fill out thorough questionnaires about your medical history, your medical insurance on your credit card doesn't take a pulse on your current condition. All of the underwriting and decision-making on your claim happens after an incident has happened.
"The problem with no-questions-asked is that credit card insurance will underwrite at the time of claim and not the time of the application," explains Firestone. "If you're underwritten at the time of the application, you'll know what you're covered for, your insurance company knows and if you make a claim, there are no surprises."
For example, if you fall and break your hip while on vacation, and your insurance provider learns you switched pain medication for a chronic ailment right before your trip, that could cost you your claim. The underwriter could learn from your doctor's notes that a side effect of the drug is dizziness, altering your stability, Firestone says. If you're 65 or older, you could lose your coverage altogether.
You're then on the hook for the cost of the medical bills. Your provincial coverage might help but it won't be enough to put a dent in those hefty costs. Your regional coverage might not even extend into other provinces.
Credit card insurance is meant for shorter trips
The length of your trip and the price tag are crucial -- your credit card trip insurance is typically only meant for shorter vacations. That means you shouldn't rely on basic credit card trip insurance if, for example, you're a snowbird heading south for a few months or if you're a student on a semester-long exchange.
It also isn't going to cover a trip-of-a-lifetime African safari or a bank-breaking week off in Bora Bora -- there is a limit on how much you can claim. The Royal Bank of Canada's Rewards Visa Preferred card, for example, provides a maximum of $2,500 for trip cancellation (that's total for the applicant, applicant's spouse and applicant's dependent). Sometimes that isn't enough to foot the bill.
If your trip is more expensive than what your credit card's policy will cover, you can make up the difference by topping up coverage amounts with an additional individual policy.

Firestone suggests that based on those factors, certain segments of travellers should not rely solely on insurance provided by their credit cards. However, if you're young and healthy and simply visiting the U.S. for a long weekend, your credit card policy may be all you need.
See related: 5 credit card perks you might not know you have, Do you need to call your credit card issuer before you travel?, Don't let fraud ruin your vacation

Published June 23, 2016
Most recent All credit card news Stories