Many Canadians don't save for emergencies
Sooner or later we all face an unexpected expense. Yet a recent poll found that almost half of all Canadians have no emergency fund.
Conducted by the Canadian Imperial Bank of Commerce (CIBC), the poll of 2,003 Canadians also revealed that younger people - many of whom are paying off student debt - are less likely to have started saving, with only 51 percent of those aged 18 to 44 saying they've got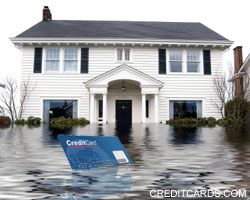 something tucked away. Those most likely to have a fund are those age 45 to 64 -- 60 percent of whom say they have readily accessible savings.
Kris King, a 62-year-old Toronto photographer and writer, is an example of someone who has never had emergency savings. She and her husband, who also works as a freelancer, plan to work throughout their lives. King got into trouble using credit cards and recently had to declare bankruptcy, "the most emotional pain I've ever felt," she says. To keep their costs low they've chosen to rent and ride their bikes year-round. They've never owned a car.
The benefits of saving
On the other end of the spectrum is Crystal Thomson-Dick, a 29-year-old mother of two living in Calgary. Thomson-Dick has amassed a year's worth of living expenses in her family's emergency fund. She and her husband Troy were both raised in single-parent homes, well-aware of how easily an emergency can deplete a savings account. They have been consistently saving money for a decade. "We have an automatic withdrawal twice a month so we don't even see the money," she said. They used to save $400 each month, now setting aside between $500 and $800 just for emergencies.
Thomson-Dick and her husband used their fund two years ago, lending $22,000 to a sister-in-law whose house was severely damaged by a storm. "You never know what can happen," she says.
Yvonne Yang, who runs her own Toronto floral business, has two emergency funds, held in cash, one with $10,000, and one with $16,000, Yang, who is 33 and single, has six full-time and part-time employees in her three-year-old business. "I was forced to create the fund," she says. "Once you open a business, when you live in uncertainty and others are relying on you, you've got to be responsible. You have to be self-disciplined."
She prefers to pay cash for emergencies and has paid as much as $4,000 for a car repair.
Having funds on hand during an unexpected medical crisis can help mitigate an extremely stressful situation. For example, John Heckbert, a mortgage broker in Richmond Hill, Ontario, needed his emergency fund when his wife Karen was given a diagnosis of incurable bladder cancer in 2008. Heckbert, then 51, was able to stop working full-time for the nine months until she died, living on the $15,000 in their emergency fund, plus an additional $30,000 earned through part-time work.
Heckbert, who now counsels people who have ruined their credit, created his fund by consistently saving an entire month's expenses every year, setting it aside in a special savings account.
Saving strategies
Heckbert says some Canadians struggling to create even a three-month emergency fund to cover housing, food and transportation are misspending their incomes. "Too many people are diverting their money into long-term retirement savings," he says. "You need to have short-term savings as well, not just RRSPs." He advises Canadians to create a separate account for emergency savings and only pay out their fixed monthly costs after keeping a percentage for emergencies.
Canadians should also beware of overspending on insurance, whether life, car or product warranties, Heckbert says. "There are families out there with $2 or $3 or $4 million worth of life insurance, and they're paying a fortune for it every month," he says. "If your spouse is able to work, you may not need that much life insurance. People have way too much of it."
Once you've set up your emergency fund, be sure to keep adding to it consistently. If your expenses drop or your income rises, use that difference to increase your cushion. And, if you draw it down, be sure to replenish it so you're ready for the next time.
See related:
Canadian seniors facing financial adversity
;
Credit report tracking critical for Canadians
Updated September 26, 2012
Most recent Credit Account Management Stories