Marijuana producers struggle to get mainstream banking, credit card services
Medical marijuana has been legal in Canada since 2001 and has been regulated under the new Marijuana for Medical Purposes Regulations (MMPR) since 2013, but it's still difficult for these legal licensed producers to get and keep an account from the big banks, thanks to the public relations optics around the marijuana business.
Medical marijuana production is legal as long as it's done by a producer licensed by Health Canada, such as B.C.'s Canna Farms. Dan LaFlamme, Canna Farms' founder, told The Globe and Mail that Canna was turned down twice for financial services before a third bank agreed to work with the company.
"Legal licensed [medical marijuana] producers have a hard time finding banks that will give them banking services and it has nothing to with breaking the law," says Kharrum Malik, partner at Jacob Capital Management, a Toronto-based private investment firm specializing in matching those in the legal cannabis industry with corporate investors. "For the licensed producers, it's just a branding and philosophical thing where the federally-regulated banks say, 'No, we're not going to touch the cannabis business.'"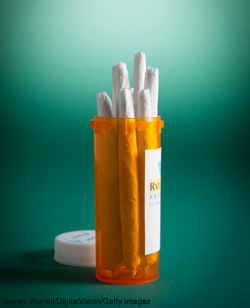 Requests to Canada's big five banks for comments about whether any of their clients are in the medical marijuana business went unanswered for this story.
However, many producers have successfully turned to credit unions for financial support. Through a credit union, licensed producers can get a lot of the same services they would from a bank, but credit unions tend to be a little less concerned about the reputation aspects of being associated with a cannabis producer, according to Malik.
"Until recreational use of marijuana is legal in Canada, for the larger banks, the medical marijuana market is comparatively small," he says. "It makes no tangible difference to the growth of their business, so why go down a controversial road unless they have to? But for a credit union, which is smaller, it makes a tangible difference when adding a few licensed producers as clients."
Dispensaries have it even harder
Licensed producers do not make up the entirety of Canada's medical marijuana market. They face competition from storefront marijuana dispensaries.
"When you go to a licensed producer ... the only option you have is to get it as a dried flower, then you've got to smoke it or vaporize it," says Malik. "At a dispensary, you get a better sales experience, better variety of product and, in some cases, better pricing because the rules for licensed producers don't yet allow them to offer different products."
However, dispensaries, unlike licensed producers, are illegal under the MMPR, and every dispensary in Canada operates in what has become a legal grey area. The majority of dispensaries require their customers to have a legal prescription and possession license, and the dispensaries pay taxes to the federal government.
"As long as dispensaries pay their taxes and pay their rent, the police tend not to enforce the law against them unless there's a number of public complaints," says Malik. As a result, business at dispensaries is done entirely in cash. But where does all that cash go?
"It's a bit of a murky area and something dispensaries don't like to share," says Malik. "There are a lot of ways you can shield cash behind what are currently being called 'legitimate enterprises.' It's not money laundering, but it's a way of shielding who you are and what you are."
Malik says many dispensary owners attribute the cash as coming from other more legitimate businesses they own because "it's the only practical way you can get away with it."
Use plastic to pay for pot? Not yet, but maybe soon
Of course, not every licensed producer runs into banking problems.
"Some of the people behind licensed producers are very wealthy individuals who've been long-time clients of Canada's major banks," says Malik. "In an effort to make those clients happy, those few licensed producers have been grandfathered in."
One example is Tweed Inc., a licensed producer based in Smith Falls, Ontario that is Canada's first publicly traded cannabis company.
"Canadians see marijuana very differently today than they did 15 years ago, with the majority now supporting legalization," says Bruce Linton, CEO of Tweed's parent company Canopy Growth Corp. He says big institutions, such as government and financial institutions, lag behind public opinion.
"But, in Canada ... the government's federal approach means that cannabis producers aren't unduly denied financial services," he says. "At Canopy, we use a federally regulated bank, accept credit card payments, have access to debt instruments and trade our stock publicly on a mainstream securities exchange."
But most licensed producers don't have the track record of Canopy and, therefore, aren't offered additional banking services such as credit card processing. The majority of cannabis businesses will have to wait until recreational use becomes legal in Canada before the major banks will provide them client services.
"The major banks will get in on this because cannabis becomes a multi-billion-dollar business on the first day recreational use is legal," says Malik.
Legal, recreational use of marijuana was promised by Prime Minister Trudeau's Liberal government after the last election, but Malik predicts recreational use won't be legal until 2018 or, at the earliest, late 2017.
"We're not ready," he says. "There's still a lot of work to do to get these cannabis platforms ready for recreational legalization. It will be a quantum change in our industry."
But Malik says medical cannabis users should see their prescription drug sold in pharmacies sooner than that. "You're going to be able to buy your cannabis from Shoppers Drug Mart or London drugs potentially this year, so you'll have retail distribution for your medicine before you even see legal recreational use, so that will be a nice interim step," says Malik. This will allow licensed producers to distribute their product in a traditional retail environment, making it easier to pay and providing a better consumer experience.
See related:
Mobile banking trends help branchless banks evolve
Updated June 15, 2016
Most recent All credit card news Stories