Marketplace lending: The popular peer-to-peer system hits Canada
Traditionally, if you want a loan in Canada, you ask one of the five big major banks. If they won't give you one, there's basically nowhere else to go -- until now.
Marketplace lending - the practice of matching borrowers and lenders through online platforms -- is a new way to get a loan that's taking off worldwide. In the U.S. and the U.K., marketplace lenders have served more than 1 million customers. Now, companies specializing in marketplace lending have started popping up in Canada, too.
How does marketplace lending work?
Marketplace lending is a peer-to-peer (P2P) lending model in which, instead of a traditional financial institution providing a loan, a loan is crowdfunded and given out by a group of institutional investors to an individual or a business through an online platform.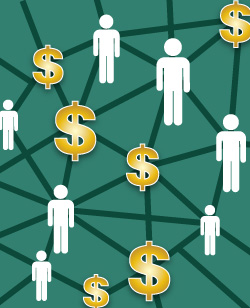 "Borrowers benefit from lower rates along with a faster and more convenient online experience, while investors enjoy compelling returns on their investment," says Kevin Sandhu, CEO of Grouplend, a Vancouver-based marketplace-lending platform.
All marketplace loans are instalment loans, meaning they are repaid
in fixed monthly payments (that also means they are reported to credit bureaus, so if you are responsible with the loan, it can help you strengthen your score). The number of payments varies depending on the size of the loan. Interest rates also vary between loan companies, but are generally lower than those of a traditional bank or credit card.
"Grouplend offers personal loans to prime quality borrowers that are typically around 30 per cent cheaper than traditional bank and credit card options," says Sandhu.
Additionally, the technology behind marketplace lending means these platforms can respond to trends in the marketplace at a much faster rate than banks can.
"Through the internet, we can leverage innovative technologies that allow the process of lending to happen instantly and at a very low cost," says Cato Pastoll, CEO of Lending Loop, a peer-to-business lending platform based in Toronto. "This means that platforms like Lending Loop can originate and service loans with hundreds of lenders without the overhead of a traditional financial institution. This lower cost structure allows us to pass the savings on to both the lenders and the businesses."
"[We can] offer rates tailored to an individual applicant based on her credit history, income and borrowing history, so rates are competitive with what banks are offering," says Andrew Graham, CEO of Borrowell, another marketplace lender in Toronto. "Technology also allows us to quickly and easily adjust interest rates based on debt trends. For example, we reduced our lowest APR from 5.9 per cent to 5.6 per cent because debt trends in Canada were reporting improved delinquency rates. We can do this almost immediately, while banks typically take a much longer time to respond to debt trends nationwide."
Finally, the speed and convenience of marketplace lending give it advantages over traditional loan application processes.
"Nearly 40 per cent of our borrowers receive funding the same day that they first complete an application online," says Sandhu. "We're able to do this through advanced proprietary software designed with our customers' priorities in mind."
Borrower requirements and qualifications
To apply for a marketplace loan, you'll initially need to enter the following information: how much money you need, the reason you need it, what province you live in and your credit score. Then, you'll move on to a more in-depth form that asks for personal information such as name, phone number, SIN (optional) and your monthly rent or mortgage payment. Then, you'll get a quote, which counts as a soft inquiry on your credit history. If you're happy with the quote, the lender will draw up an agreement with how much you'll pay per month, how many months you have to repay and the interest rate.
"Anyone can apply for a loan, just like at a credit union or a bank," says Alex Benjamin, CEO of Lendful Financial Inc. -- another marketplace lender based in Vancouver.
However, you must still meet some criteria to qualify for a P2P loan. You must be a Canadian citizen, at least 19 years of age and a resident of the province in which the lending platform of your choice operates. Some lenders require a minimum credit score of 660 (the average for most Canadians) and a minimum credit history of at least 12 months. Most marketplace lenders also require proof of income.
Is P2P lending safe and secure?
Given that such loans are through a group of investors rather than a bank, the first question you'll likely have is: How safe is it? Fortunately, the regulatory environment in Canada has many measures in place to protect borrowers.
For instance, the same regulatory bodies that regulate Canadian financial institutions regulate marketplace lending and use many of the same fraud prevention technologies that banks do.
"As a provider of financial services, trust and security is paramount," says Graham. "We use sophisticated ID verification and fraud protection technologies to validate applicants. We also use payment-processing company VersaPay to securely fund our customers' loans and to collect monthly payments. We take our customers' privacy very seriously and don't share personal information with other parties."
"Marketplace lenders are subject to stringent regulations," Graham says. "First, we must conform to province-by-province regulations that govern financial transactions with consumers. We must also respect privacy and anti-spam regulations. Second, marketplace lenders must respect securities laws when taking money from investors."
See related: Peer-to-peer payments vie to make wallets a thing of the past
Updated September 18, 2015
Most recent All credit card news Stories