How to make the most of your Air Miles rewards
There are many rewards programs, but one of the most popular is the Air Miles program -- it's the largest loyalty program in Canada. This program is ideal if you're looking to get more than just cash back from your rewards program (though cash back is an option), as you can redeem Air Miles for gift cards, merchandise and, of course, hotels and flights.
However, it can be difficult to know how to maximize your miles and choose the reward that works best for you. Patrick Sojka, founder of Rewards Canada, offers his advice on how to make the most of your Air Miles.
Maximizing your Air Miles
You can earn Air Miles by using an Air Miles loyalty card or an Air Miles-branded credit card at participating sponsors across the country.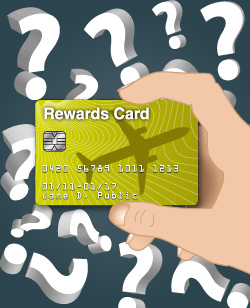 If you're new to Air Miles, Sojka suggests the first thing to do is find a Miles-branded credit card. This is an easy way to get started -- many credit cards offer a generous Air Miles signup bonus, which can jump-start your collection. For example, the American Express Air Miles Platinum card offers 2,000 bonus miles if you charge at least $500 in the first three months, while the BMO Air Miles World Elite MasterCard offers 3,000 bonus miles if you spend $3,000 in the first three months. BMO's no-fee Air Miles MasterCard also offers a
smaller bonus of 800 miles -- 400 bonus Miles after your first
purchase, plus 400 more if you spend $1,000 in the first three months.
It's important not to neglect the Air Miles loyalty card either, though. "Make sure you're double dipping -- using a credit card that's attached to the program and showing your Air Miles card when you're
shopping," says Sojka. By using both cards, you earn double the points.
Sojka says one of the biggest sources for earning Air Miles is grocery stores, especially if you remember to double dip. Chains such as Sobeys, Safeway and Metro partner with Air Miles, which means your weekly shopping trip can easily earn you many miles. Sojka also recommends checking for weekly flyers at the front of the store, as they often include a coupon for bonus Air Miles. Additionally, specific items often come with bonus earning opportunities if you purchase two or more of the item.
Deciding how to redeem
After you start earning, you'll need to decide how you want to redeem your Miles. You have two choices: Cash Rewards or Dream Rewards. You can allocate points to one or both programs. You can redeem your Miles by phone or online, but Sojka recommends the latter, as call wait times can be lengthy.
The Cash Rewards program operates almost like a prepaid card -- you can redeem these rewards instantly for in-store or online purchases with participating partners (95 Air Miles will get you $10 off your purchase). This is a good option if want instant savings and you're not looking to build a large Air Miles balance.
You can redeem Dream Rewards for flights, merchandise and experiences, but be aware that you might not be able to score free travel as easily as you can redeem Cash Rewards. "Air Miles operates similar to other reward programs where there's only a certain number of seats available," Sojka says.
So when you log in to the Dream Rewards redemption site and see X miles required for a certain flight, that requirement only applies to certain seats on the flight. Once those seats are full, the number of miles required will likely go up.
The key, he notes, is to shop around. A flight from Sudbury to Toronto can require more Miles than a flight from Toronto to Los Angeles. And since Air Miles partners with a number of airlines, including Air Canada, WestJet, American Airlines, Canadian North and British Airways, if your dates and destination are flexible, you can browse for more affordable options. Flying within North America is also the easiest (and most practical) way to redeem your Air Miles, according to Sojka. Unless you're earning around 20,000 miles a year, Sojka says it's unlikely you'll have enough for a flight to Asia, Europe or Africa.
Finally, using your Air Miles-branded credit card to redeem miles can save you, too. For instance, Sajka notes the BMO World Elite Master Card offers a 25 per cent discount on miles needed per flight.
Earning Air Miles is a great way to treat yourself for spending you're going to have to do anyway. Just remember to pay off your balance every month, otherwise interest charges could negate any savings earned with the Air Miles credit card. And it's important not to spend extra to earn rewards, or you could easily start down a slippery slope to debt.
See related:
5 basic rewards-chasing mistakes
,
How to optimize rewards beyond double-dipping
Updated April 28, 2016
Most recent Airline / Frequent Flyer Programs Stories