Deep in debt? Meet the new characters in your life
If you're drowning in debt, chances are you're not alone. In fact, you're probably surrounded by a whole host of new characters, from tough-talking bill collectors to patient bank managers. But while it's easy to get overwhelmed by poor credit, there are ways you can better handle the payment-seekers that are now entering your life. Here's a list of the top four characters most likely to make an appearance in tough financial times -- and how to handle them.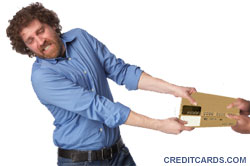 The bill collector
So it's been months since you last paid your credit card company. Well, then, expect a debt collector to get involved. Whether it's a company's own debt collection department or a third-party collector, your creditor is looking to get paid -- and fast.
So when can you expect to hear from a debt collector? "Bill collectors will start to contact the debtors gently via their [credit card] statement by letting them know that they have not received their payment," says Laurie Campbell, executive director of Credit Canada. "Then the communication will escalate to phone calls, letters if the person is more than two or three months behind with their payments."
While it might be tempting to run away and hide, Campbell says, "Always make sure to contact the bill collectors right away and explain your financial situation, follow up with a letter recapping all that was discussed and agreed upon during the conversation, ask that they reply with a letter of agreement and keep it with your records. Do not wait for the phone calls to start; avoiding phone calls will not make them go away."
The debt adviser
These days, there's no shortage of debt advisers offering to help relieve you of your debt. According to Campbell, a debt adviser can help in a number of ways by:
Looking at your full financial situation and finding options that are realistic and comfortable.
Discussing your budget in detail and discussing possibilities on how to reduce expenses in order to meet your day-to-day needs.
Explaining how your financial options can impact your credit score.
Helping you create a debt repayment plan or writing a letter to the bill collector explaining your financial situation.
Referring you to other agencies that can assist, such as food banks, as well as not-for-profit credit counselling services.
Nevertheless, Campbell warns that not all debt advisers are created equal, so be selective. "I would be weary of a debt adviser that requires you to pay upfront fees, or is not taking down any information or does not give you a copy of the work that was discussed," advises Campbell. "Another warning sign that says you need to walk away from this debt adviser is when they only talk about one option and coincidentally they are the only ones that can provide that option."
The credit score agent
You may be able to hide your debt from your spouse -- but never a credit score agency. That's because credit reporting agencies such as TransUnion of Canada and Equifax Canada keep close tabs on your credit profile and scores.
However, Campbell says there are ways to get a poor credit score back to an acceptable level. "If you want to dispute your credit rating/score, you can always ask that the credit bureaus investigate your file and settle the problem," she says. "But the best way to improve your credit score is to always make your payments on time all the time and to keep your debt below the 35 percent debt ratio."
For this reason, Patricia White, executive director at Credit Counselling Canada, says, "People should be aware that they can obtain a copy of their credit report from the credit reporting agencies in Canada for free by mail. It is also a good idea to check your rating well in advance of applying for credit." In the end though, White maintains that "the faster a person resolves unpaid debts, the sooner their credit score will improve."
The bank manager
Now's the time to get on a first-name basis with your bank manager. For starters, your local neighbourhood bank manager "may give you some direction on how to improve your credit score," says White. But more importantly, sitting down with your bank manager allows you to "build a relationship with your financial institution," she adds. "You are no longer a number; they know you and may go the extra mile when you really need them. You are now a friend."
And, at one time or another, we're all looking for a little help from our friends.
See related: 4 tips for dealing with debt collectors; Study: The face of bankruptcy in Canada
Published April 21, 2011
Most recent Bad Credit / Credit Repair Stories