Merchant cost of accepting plastic jumps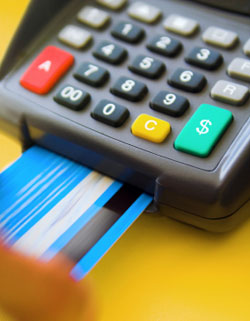 Large increases in credit card handling fees means merchants must pass them on to consumers to survive. Even that may not be enough to help businesses in Canada.
Merchants are experiencing increased credit card processing fees associated with business merchant accounts, according to TheStar.com. These increased operating fees are passed down to Canadian consumers, who are footing the bill for some of the highest credit card merchant fees in the world, says Diane Brisebois, president and chief executive officer of the Retail Council of Canada.
Right now, the cost of accepting credit cards for businesses has jumped nearly 50 per cent over the past two years. The customer, of course, absorbs the additional cost.
Businesses are forced to wade through credit card statements that make no sense, with perplexing processing fees. Monthly fees that could cover the cost of running a business are instead forked over to cover credit card transaction fees.
With the new Visa and MasterCard debit card networks going into most businesses, owners are fearing that the fees will skyrocket further.
According to the Retail Council of Canada, merchants pay about $4.5 billion each year just in credit card fees. Assuming that those costs are passed on to customers, that translates to about $400 per household.
Visa and MasterCard are warning the government that any excessive regulation will have the opposite effect and increase costs for consumers. They claim that the payment industry is competitive and consumers are offered many choices. The companies also claim that with new regulations governing the industry, low income Canadians may not get access to credit, and rewards programs could be pared down as well.
Meanwhile, Finance Minister Jim Flaherty is distributing a proposed code of conduct that will give merchants more control in dealing with credit card processing companies. What this will mean for Canadian merchants and consumers remains to be seen.
Written by Melanie Dixon.
Published January 26, 2010
Most recent Merchant Accounts Stories