Merchants and issuers clash on fees
As far as the Retail Council of Canada was concerned, it was an early Christmas gift. Back in December, the government watchdog group, the Competition Bureau, filed an application with the Competition Tribunal demanding that it strike down restrictive and anti-competitive rules that Visa and MasterCard impose on merchants who accept their credit cards.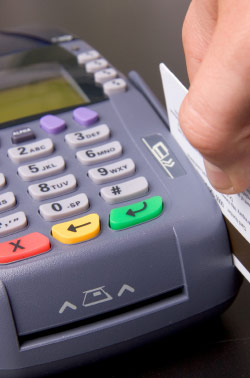 According to the Competition Bureau, Visa's and MasterCard's anti-competitive rules wind up costing businesses and, ultimately, consumers in hidden credit card fees. In fact, the Commissioner of Competition alleges that these rules cost Canadian merchants an estimated $5 billion annually in hidden fees. As a result, the Bureau argues, merchants pass along some of these high costs to consumers.
One example of a hotly contested rule is that merchants are prohibited from applying a surcharge to a purchase on a high-cost credit card. What's more, once a merchant agrees to accept one of Visa or MasterCard's credit cards, that merchant must accept all credit cards offered by that company, even those that come with exorbitant merchant fees, such as premium cards.
But the battle is only heating up. In a legal filing this week, Visa Canada argued that striking down the no-surcharge rule would actually be harmful to consumers as merchants would be compelled to tack on additional credit card transaction fees.
Nevertheless, the Retail Council of Canada, backed by more than 250,000 Canadian merchants across the country, is sticking to its guns. Here's how Mark Beazley, the Retail Council of Canada's director of communications, weighs in on the controversy:
How do today's anti-competitive rules impact merchants?
Merchants are constrained by the honour-all-card and non-surcharging rules. We believe that retailers should be the final arbiter of the customer interface. Instead, the payments industry has imposed a business model on merchants in which all the power rests with the three pillars of the industry -- namely the card networks, financial institutions and processors -- and none with the merchant. In general, current merchant agreements created by the payments industry in Canada are restrictive to merchant choice.
How do these rules impact consumers?
Consumers have the final choice in Canada's retail marketplace in that they will make decisions about where they shop based on the products and services they wish to buy. Merchants are simply asking that they be allowed to make business decisions that allow them some small element of control of their business costs and that they be allowed to interact with consumers in a way that makes sense for them.
How might the Competition Bureau's filing with the Competition Tribunal help matters for merchants and consumers alike?
It's important to understand the restrictive and uncompetitive nature of the merchant agreements and what little leeway they provide to merchants who are looking to try to bring order and control to the one thing in their operations they cannot control -- what form of payment a customer brings into the store.
See related: Merchant cost of accepting plastic jumps; Liberal caucus pushing for government regulation of card industry; Small businesses bemoan Visa opt-out policy
Published February 15, 2011
Most recent Legal, regulatory, privacy Stories