6 milestones to widespread in-store mobile payments
In a time when almost everything else is done via mobile, why not payments? Many experts think it's only a matter of time. As various catalysts emerge, such as more mobile wallets and more merchant acceptance, the trend is expected to gain momentum over the next few years.
Only a tiny segment of Canada's more than 24 million mobile subscribers pay in-store via smartphone right now, according to Christie Christelis, president of market analysis firm Technology Strategies International and author of Canadian Payments Forecast reports. Consumers use their smartphones at brick-and-mortar stores to snap photos of merchandise, research product details and compare prices. But many then put away their phones to pay with cash or plastic.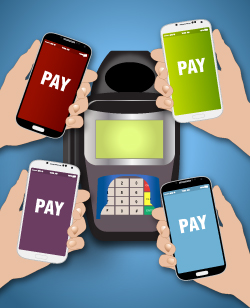 Yet Christelis anticipates that by 2017, almost 3 million Canadians
will regularly use their phones to complete in-store purchases. "We're going to see quite a lot of movement over the next year or two, but I think you're talking about a 10-year play before in-store smartphone payment goes mainstream," Christelis says.
As mobile phones transform from workhorse shopping aid to must-
have payment tool, watch for the following triggering milestones.
1. Usable mobile wallets
It's still very early days in the mobile payment space, given comparatively few phones have the near field communication (NFC) chip required to make contactless payments. Even if you have an NFC-enabled phone, it may not be compatible with your bank's mobile wallet app or be supported by your wireless service provider. Nor are
all debit and credit cards included in current mobile wallet programs.
Getting all those moving pieces into place is a big challenge.
"But once there is a mobile wallet that seamlessly houses your payment credentials and is just as easily accessible by your NFC-enabled phone at checkout, you will see consumer uptake," says Christelis.
2. Bank-assured peace of mind
Stephen Popiel, vice-president at global research firm GfK, says mass adoption of in-store mobile payments will start once consumers are comfortable with system security, something that requires a setup designed to guarantee their money's safety.
Popiel notes Canadians are probably looking to their trusted banks to provide this security.
A 2013 PwC survey supports Popiel's analysis. Asked if they would trust their financial data with any entities other than banks in Canada's extended mobile payment ecosystem, participants overwhelmingly responded "no."
3. As convenient as contactless cards
A major competitive hurdle to overcome is the ease and speed of tap-and-go cards. In-store phone purchasing has yet to achieve the same level of consumer comfort and familiarity because developers are still figuring out the full process for smartphone payment technology.
After serving as a moderator at an April 2015 mobile payments conference in Toronto, Christelis says one panelist presented compelling research showing mobile phones are slower than contactless cards. With mobile, you may have to get an app up and running (which could include waiting for your phone to process, relying on data or Wi-Fi connections or remembering a login), choose your payment method, select the appropriate account and put your phone into ready mode -- then can you pay.
However, this aspect could improve as early as late 2015, at least for some iPhone users, with the rumoured introduction of Apple Pay. The mobile wallet doesn't require all those steps. Instead, you just tap the phone to an NFC reader and put your thumb on the phone's fingerprint scanner to verify your identity. Besides speeding up the process, the thumbprint scanner adds a layer of security.
Once Apple Pay is here, it's reasonable to expect Google Wallet to follow suit, which would open the door for Android phone users as well. Of course, it will still take time for either wallet to fully develop nationwide, and introduction dates are still tentative.
4. More merchant acceptance
On April 13, Finance Minister Joe Oliver announced amendments to Canada's Code of Conduct for the Credit Card and Debit Card Industry giving merchants unprecedented legal power to reject mobile phone payments but still accept contactless card transactions.
Richard Trustcott, vice-president for the Canadian Federation of Independent Business in BC and Alberta, expects few businesses will refuse phone taps and instead will yield to pressure for allowing mobile payments.
"As the number of smartphone owners increases in Canada, merchants are likely very worried about losing business if they don't allow a wide range of choice in how their customers pay," says Truscott.
Michael Gokturk, CEO of technology solutions provider PayFirma, says merchants equipped with payment terminals for contactless cards can also accept NFC phone transactions without any upgrades or other extra costs.
"Many of the stores where Canadians shop are already outfitted with NFC-enabled terminals -- in Canada I've read that number is 75 per cent and higher," adds Gokturk.
5. Mobile promotions
According to Popiel, program elements such as digital couponing and loyalty programs will help warm consumers to in-store phone payments. MasterCard Canada's website states couponing is coming to PayPass-enabled smartphones "in the not too distant future" and that savings will be automatically applied when you tap your mobile device on a contactless reader.
Millie Ho, a marketing and e-commerce expert with Retail Category Consultants, says phone users digitally rewarded for loyalty are more likely to adopt smartphone payments. And loyalty apps collect more detailed data about consumers than traditional loyalty programs, which allows retailers to send super-specific promotions to customers.
Mobile promotions are usually customized and delivered in real-time, which satisfies shoppers' needs for personalization and efficiency while shopping. However, Ho cautions consumers must see a clear value they can quickly use.
"Today, no one -- and especially not smartphone-savvy millennials -- wants to save over a lifetime to earn a reward," explains Ho. "The more immediate the reward, the better."
6. Higher contactless limits
Another stepping stone to popularizing in-store phone payments are increases in the allowable amount per tap, currently set at $100 by Visa and MasterCard. Exceeding the contactless limit doesn't mean the transaction will be rejected, although the procedure is a little more inconvenient since you have to enter your PIN.
Christelis says a higher maximum could encourage a wider range of retailers to support phone purchases.
He has interviewed many industry experts for this year's payments forecast study who are complaining that they dislike the $100 contactless ceiling and instead want the full credit limit accessible.
"That's where the aspiration is," says Christelis. "I don't think we'll get there in the short term, but I do think that contactless limit will go up as demand for phone payment grows."
See related: Why Canadians are slow to adopt mobile payments; Online shopping soars but so do debt risks
Updated November 15, 2016
Most recent All credit card news Stories