Military status doesn't excuse you from paying debt
Most people recognize that being a member of the armed forces requires special skills. Each soldier makes sacrifices to serve our country, such as moving all over Canada or even to other areas of the world. Military members may get special discounts on services, but are there special allowances for those that are buried in consumer debt?
The bottom line is, no. Soldiers are on the hook for their borrowing and spending habits. In fact, the armed forces rules make it clear that a soldier is in charge of his or her own cash situation.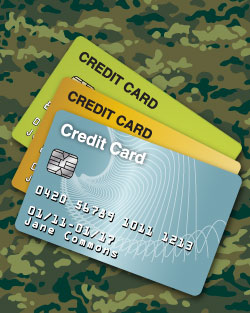 The Defence Administrative Orders and Directives (DAOD), a set of ground rules for Canadian Forces personnel, states that "the private debts of a CAF member are the responsibility of the CAF member."
Just as with any other debtor, if a court orders that a payment is mandatory, the debt can be docked from the soldier's pay, including from disability insurance under the Service Income Security Insurance Plan (SISIP).
"You're just like anyone else in Canadian society," says navy Lt. Michele Tremblay, public affairs officer for Canadian Forces Morale and Welfare Services.
In fact, debt can even affect your suitability for service in the Canadian Forces. As with many other job opportunities, a credit check may be one of the first tools your potential bosses use to weed out candidates. The DAOD states that "failure to settle private debts may ... affect their security clearance suitability."
Poor credit or a large debt load may signal a personality type that's not best suited to work under high pressure and with tremendous responsibility.
Debt management resources for soldiers
Soldiers in debt may not be excused from debt, but they have a couple of options if they need financial help. First, publicly-funded financial programs are available to some members of the Canadian Forces.
"There is what we call emergency fund," says Tremblay. However, she says, "like the Military Families Fund, it's not for getting just anyone out of debt. It really is there for a family crisis situation."
For soldiers dealing with regular, non-crises debt situations, free financial counselling programs are available to military members to help create budgets and work out ways to pay back any outstanding debt.
"We have financial counsellors on pretty much every base," says Tremblay. "If someone did find themselves in trouble, we would seek financial counselling for that person." In addition, soldiers get some extra perks when it comes to keeping their spending in check in the first place.
"BMO is our official partner," Tremblay says. "They'll give employee rates for student loans, and if you have a mortgage, if you move, they'll waive the penalty, if it's a service move." However, when seeking loans through BMO's military program, you still need to pass the credit screening, she says.
At the end of the day, Tremblay says managing debt while in the military is about planning and spending wisely, just like with any other profession.
"My pay comes in on the 15th and the 30th and even if I work 40 hours, 50 hours, if I'm deployed out west for an emergency fire and I come back ... it's the same pay," Tremblay says. That means she is able to plan budgets in advance to avoid or pay back debt. Other soldiers should be able to do the same.
See related:
End the vicious cycle of using your card to make ends meet
,
Your guide to getting started on saving, even if you have debt
,
What to tell your creditor when you can't make payments
Updated June 23, 2017
Most recent All credit card news Stories