Why digital payments won't replace credit cards
MintChip, a new digital payment system, is designed to be convenient, safer than carrying cash and able to fit in your pocket. While these qualities sound similar to credit cards, don't plan on dumping your plastic yet.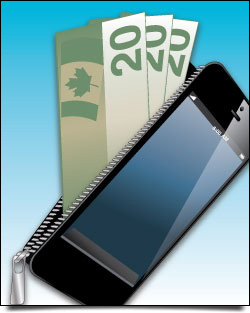 The chip is meant to replace pocket change, and even if it succeeds in doing that, it won't be replacing credit cards any time soon. But there may be times when using the digital currency makes sense.
MintChip is designed for so-called micropayments -- under $10 -- mostly made online. Secured by the Canadian dollar, MintChip currency lets you make digital payments without directly linking to your bank or credit card accounts. You can store your MintChip account either in the cloud or on an integrated circuit contained in a mobile phone or other device. The system holds electronic value and transfers value from one chip to another in a secure manner. Some call MintChip "instant messaging for your wallet."
It's kind of like another digital currency, Bitcoin. Only Bitcoin is not backed by any existing currency. Market supply and demand sets Bitcoin's value independently from any national currency. Free from government or financial institution intervention, Bitcoin holders trade or use the virtual currency to directly buy and sell products and services over the Internet. The Bitcoinstore sells over 500,000 products and a limited number of other merchants accept Bitcoin.
Bitcoin's completely anonymous environment has fostered a number of problems, including the hacker attack on Bitcoin service provider Instawallet. The virtual currency has also been investigated for its use in illegal drug sales, gambling and money laundering.
MintChip is somewhere in between Bitcoin and credit cards, in terms of its features. Here are some pros and cons to consider:
1. No spending history
The Mint promotes MintChip as a mobile form of cash that requires no personal data during a transaction. But unlike Bitcoin, MintChip does leave an electronic trail. In its current system design, consumers will buy MintChip from the Mint's trusted (and as yet unidentified) broker, just as their payees will redeem MintChip with that same broker. "Any centralized service that tracks value is an easy and obvious observation point, and therefore MintChip is not anonymous," explains software engineer Jeff Garzik.
Yet, MintChip transactions are not as traceable as credit card purchases. There are no transaction records like the ones that allow credit card holders to review statements and accumulate rewards points. Then again, that may be good if you'd rather keep that Justin Bieber download off the books.
2. Person-to-person transactions
Consumers will be able to make person-to-person payments simply by tapping together their MintChip-enabled mobile phones. That's a service not readily available with credit cards.
As a cardholder, you could take out a cash advance on your card and hand that money over to another individual, but that's not an instant exchange. Besides, hefty cash advance fees apply and interest accrues from day one.
3. Fees
Canada's Competition Bureau estimates merchants pay $5 billion annually in hidden credit card fees. Merchants then pass along some or all of those costs to consumers in the form of higher prices.
While the Mint claims that MintChip is a cost-effective solution for consumers and merchants because the technology is "unburdened by the need for a proprietary network," MintChip may still require processing charges and other transaction fees from service providers.
Bitcoin ATM machines serve as an example. "The machine operator determines fees for any cash-to-Bitcoin conversions," says Harvey.
4. Fraud risks
Credit card holders are protected by zero liability policies. That's a big deal when you consider card companies reimbursed customers for nearly half a billion dollars in losses as the result of credit card fraud in 2012, according to the Canadian Bankers Association.
No fraud protection policies have been announced for MintChip.
5. Unproven payment method
Credit cards are well-established in Canada, with 73.9 million Visa and MasterCard cards in circulation as of October 2012, generating $355.6 billion in gross annual sales and cash advances.
The biggest unknown about MintChip is whether the new technology will ever be released into circulation. "MintChip is still in the research and development phase, and we continue to consult with key stakeholders," the Mint tweeted on July 9.
As to whether MintChip can ever surpass credit cards as a form of electronic currency, SAP social business consultant Kirby Leong is skeptical.
"I doubt it. Credit cards are too entrenched, although MintChip has an opportunity to make inroads with small transactions," says Leong.
See related: 5 myths about contactless payments; Expert Q&A: Are mobile payments safe for consumers?
Updated August 9, 2013
Most recent All credit card news Stories