Choosing a mobile card processor for small business
The use of cash in Canada is declining, so if you're a merchant who takes cash only, you might need to rethink your game plan to include plastic payments as well. There are a few options available, each with its own merits and drawbacks for both you and your customers.
Shane Kirshenblatt knows the need for a credit card solution first-hand. The comic artist and custom action figure maker sells his work at comic conventions across Canada.
"One of the biggest obstacles to making sales had been not accepting cards," Kirshenblatt says. "Cash is king at most shows, but patrons tend to run out quickly and ATMs -- with their high service charges and long lines, not to mention occasional security issues -- are not always enticing."
So, he got Square and now he can accept credit cards through a card reader attached to his cellphone.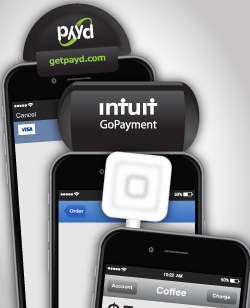 "Overall, I love it because it's extremely user-friendly, you are only paying a small service charge per transaction and no other monthly fees or equipment rental contracts," says Kirshenblatt. "Bottom line, it's something that helps overcome one more barrier ... so I'm extremely happy with it."
How they work
There are three major players in the game for Canadian
small-business mobile credit card acceptance: Square, Intuit's GoPayment and Moneris' Payd. With a few slight variations, these payment systems work the same. You download a free app onto your smartphone or tablet and input your business information, then the company sends you a free card reader that plugs into your phone or tablet's peripheral jack. You can then start processing payments and printing, e-mailing or texting receipts for your customers, while managing inventory and creating sales reports within the app.
These payment providers make money from merchant fees, which can be a bit higher than fees charged for using a point-of-sale (POS) terminal. The simplest option is Square, which charges a flat fees: 2.75 per cent for each swiped transaction and 3.5 percent plus 15 cents for keyed-in transactions.
"Many sellers find that other providers have confusing tiered models that end up being much more expensive than the 2.75 per cent," says Jenny He, Square spokeswoman.
GoPayment and Payd costs are a little more complicated, as you can choose to pay-as-you-go or pay a monthly subscription. For instance, GoPayment is a bit cheaper than Square, charging 2.4 per cent per swipe or 3.4 per cent per keyed-in transaction. A 25-cent charge applies to all transactions. You can lower the rates to 1.75 and 3.15, respectively, but you must pay a monthly subscription fee of $19.95.
You'll have to crunch the numbers to determine which plan is better for you. For instance, if you have 150 transactions per month, at $10 each, and you choose the pay-as-you-go plan, you'll lose $73.50 to fees each month (24 cents per $10, times 150 transactions is $36; and 25 cents out of each of the 150 transactions is $37.50). If you choose a subscription, the number goes down to $64, but then you add the $19.95 monthly fee and it goes up to $83.95. In that case, pay-as-you-go is the cost-effective choice.
Payd offers the cheapest rates with no monthly subscription, and offers three different plans: Payd, Payd Pro and Payd Pro Plus. The rate for all credit cards swiped with Payd and Payd Pro is 2.65 per cent, and all keyed-in transactions cost 2.85 per cent plus 15 cents. Payd is also the only system that takes debit and there are no fees for debit transactions.
However, to use debit you must subscribe to Payd Pro, which comes with a separate debit terminal, or Payd Pro Plus, which comes with a full POS system for your computer. It costs $19.95 a month to rent the debit payment terminal as part of Payd Pro. Payd Pro Plus can range anywhere between $44.95 to $99.95 a month depending on the number of products in your store and number of employees who will need to access the system. You'll also still have to pay the $19.95 a month on top of that to rent the debit terminal.
Advantages and features
Mobile credit card systems have many advantages over cash. Aside from convenience, all the major apps include software for managing inventory and producing sales reports. They also allow you to send electronic receipts.
"Merchants say their customers like the convenience of digital receipts," He says. "Their consumers also don't have to deal with sending cheques or giving out their credit card number over the phone. Also, for the first time, local merchants have digital access to the important data they need to make decisions about their business, from inventory to staffing thanks to the included software."
Here's a glance at the three major players' features:
Square
Payments are processed in one to two business days.
Free reader and business analytics software.
The option of a POS stand for your iPad.
Quick set-up.
No monthly fees.
GoPayment
Monthly subscription with lower fees or pay-as-you-go.
Free reader and software that you can also access via desktop computer.
Personalize your receipts with your logo and contact info.
Store images of items with categories and favourites.
Payments processed in two to four business days.
Get signatures and add items to inventory quickly.
Payd
Accepts the most credit cards.
Debit processing available for Payd Pro members.
POS terminal and debit processing available to Payd Pro Plus members.
Cheapest overall transaction fees.
No monthly subscription unless you use Payd or Payd Pro.
The only peer-to-peer payment system to offer swipe, chip-and-PIN or contactless payments in Canada.
Limitations and security
Besides higher transaction fees than standard credit cards, the biggest limitation to mobile credit card systems is most of them do not offer chip-and-PIN or contactless payment options; Payd Pro and Payd Pro Plus' separate payment and POS terminals are the only options for these features. For Payd, Square and GoPayment, however, the lack of a chip reader makes them a less secure option than cash.
"We announced in July [2014] that we have plans to release a Square Reader for chip cards, but we don't currently have a timeline for Canada," says He.
All three systems do have other security mechanisms, such as data encryption, fraud monitoring and phone support. You, the customer, are also still protected by the zero liability policy from your credit card provider, should you see a fraudulent purchase on your statements when purchasing through these systems.
See related: Why digital payments won't replace credit cards, Face value: Biometric verification gains speed
Updated November 15, 2016
Most recent Business Cards Stories