Mobile wallets: not that easy to use yet
With mobile wallets gaining in popularity in Canada, physical wallets could one day be a thing of the past. Sound like a bold prediction? It's not. The smartphone has already made alarm clocks, calendars and landlines obsolete.
But even with Apple Pay now integrated in Canada and Samsung Pay on the way later in 2016, other payment methods are just as convenient. So while it's not a stretch to think traditional wallets could become like VHS tapes, it may be a while before adoption is widespread.
More convenience, more spending?
While mobile wallets may make it easier to keep track of all of your cards, a major criticism is that it's a lot easier to overspend when you don't physically swipe a card.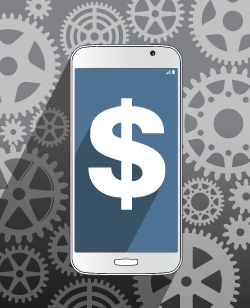 "The challenge with mobile wallets is that the money is readily available and, similar to your credit card, you can easily spend without thinking of it," Seun Adeyemi, senior financial planner at SA Capital, said in an emailed response to questions.
For example, consumers spent 30 per cent more on average when
they started using MasterCard PayPass, a 2012 PayPass adoption study found.
"Mobile wallets are very convenient, but if you're not a disciplined person, I would stay away from them," Adeyemi said.
However, the danger of easy, increased spending may be not be as significant with mobile wallets, since they can be used only for small purchases. Most retailers let you spend only up to $100 without providing a signature.
Additionally, some mobile wallets, such as UGO, go a step further, allowing you to track your receipts and keep your spending under control.
Are they actually more convenient than contactless?
"I've left my wallet or even a specific reward card at home on multiple occasions, but I cannot remember leaving my phone," Adeyemi said. "For many people today, myself included, our phones are like a third arm: it goes wherever we go. So yes in that way, it is more convenient."
For mobile wallets to be successful, though, paying with your phone has to be faster and simpler than pulling out an actual card. If it's still easier to pay with your contactless credit card, few people will even consider using their mobile wallet for small purchases.
To that extent, mobile wallets have done a good job of making it as easy to make purchases.
For example, with Apple Pay, you don't have to go through the hassle of unlocking your phone each time to make a purchase. All you need to do is place your smartphone near a contactless terminal, and your credit card will be brought up automatically. Simply use your fingerprint to confirm your identity and your payment is approved.
Since many Canadians own contactless, tap-and-go cards, mobile payments don't offer much more convenience. If your phone is already in your hand at checkout, though, it may shave off a few precious seconds to use a mobile payment instead of digging for a physical card.
Finally, you can't ditch your physical credit card yet, as some retailers haven't upgraded their point of sale (POS) terminals to accept contactless payments. This means most mobile wallets are useless, as they use the same technology (near field communication, or NFC) as the updated terminals. Only Samsung Pay works with mag-stripe readers as well as with NFC terminals.
More secure than a physical card?
Security is top of mind for smartphone users, and rightly so. It's not uncommon to hear that someone left a smartphone on the bus, in a restaurant or in a taxi. Plus, it seems there's a story a day about a new skimming technology or phone hack. Despite all of this, mobile wallets are highly secure and in many cases offer consumers the same - or more - protection you'd get with a physical credit card.
For instance, fingerprint recognition and PIN are two added levels of security for mobile payments. With advancements in biometric technology, mobile wallets are expected to become even more secure in coming years. In terms of the security of the mobile payment itself, tokenization technology means your credit card information is never shared with the world around you.
On top of all that, you get the standard fraud protections of your card when it's loaded in your mobile wallet. MasterCard and Visa offer cardholders zero liability if your credit card is stolen and fraudulently used.
The bottom line: Mobile wallets currently do not offer much more than contactless credit cards. Until a major player besides Apple enters the fray, adoption may be a slow trickle. In the meantime, those who use mobile wallets can rest assured that mobile card payments are as secure and manageable as traditional credit cards -- and your wallet will be a little lighter.
See related:
New banking, payment technologies offer accidental accessibility
,
Canadian banks integrate Apple Pay; Samsung Pay on the way
,
4 ways to make digital convenience work for your budget
Updated November 15, 2016
Most recent Product Features Stories