5 money lessons -- and apps -- for kids and teens
Our goal as parents is to help our children grow into independent adults. Part of that is teaching them about good money management and making strong financial decisions. Unfortunately, many of us grew up with a taboo surrounding money, and we may not be comfortable talking about it with our kids. We may assume our kids will figure it out for themselves, as we did.
But a recent Canadian Foundation for Economic Education (CFEE) survey of 6,000 kids across Canada found youths want to learn about money at home, from their parents.
Gary Rabbior, president of the Canadian Foundation for Economic Education, says it's important for parents to get involved in their kids' financial education, particularly today.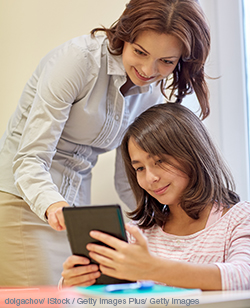 "There are just so many sources of bad information out there now, so many sources that are trying to take advantage of you," he says. "Parents have that responsibility to make sure they help give the best guidance they can to their kids."
The key, Rabbior says, is getting the conversation started, whatever your child's age.
"You need to have the relationship where you can talk about it, and if you can do it in a comfortable, natural way, parents find it runs from there," he says. "It becomes something much more natural that you can talk to your kids about. You take advantages of other opportunities that arise for the discussion."
There are many great online tools and smartphone apps available that can help you break the ice and get the conversation started. Here are five important concepts your children should understand and some tools to help make teaching them easier:
1. The value of money.
"We know it's never too early to start those conversations about money management," says Laura Plant, director of student banking at RBC Royal Bank. "The better you are able to build those good habits earlier on, the better a child grows up understanding money and making better decisions."
RBC's Learning Money with Leo app is targeted at young children (ages 3 to 6).
"The whole concept is about bringing the value of money to life and being relevant at that stage in their lives," Plant says. Through the interactive games, kids learn what Canadian coins look like and their value.
Practical Money Skills, a financial literacy site created by Visa, offers a similar app for children who are a little older (ages 5 to 8), called Peter Pig's Money Counter.
The goal of the app is for young children who are starting to learn about money to become more familiar with Canadian coins and their values, says Carla Hindman, head of financial educations at Visa Canada.
The CFEE's Talk With Our Kids About Money program has resources for young kids as well, including a downloadable booklet, Pig Tale$ with the Piggie$ Three, to read together and discuss, and a piggy bank craft activity.
The lessons in earning, saving and spending can then be applied to everyday life and parents can use them to start conversations with their children.
2. Responsible spending.
"From a very young age, it's easy to talk about needs versus wants without even bringing value into it," says Hindman. You can have discussions about how you need a house, clothing and food, but a video game is a want.
The concept may seem simple enough, but, Rabbior says, "One of the things you'll see in the CFEE survey that kids say is a challenge for them is buying things they don't need, and they only recognize it after the fact."
As kids grow older, and especially as they enter their teens and perhaps have a part-time job, "The role of the parent is helping them learn how to spend responsibly and taking some of that risk out for them, helping them make smart decisions, and put money away," says Plant.
Part of helping children become disciplined with money is learning to say no and not giving in to your child's every want. Otherwise, they'll never learn the difference between needs and wants. They won't have the means to distinguish between one and the other when they're on their own, says Rabbior.
The previously-mentioned apps for the younger kids tackle the basic idea of needs versus wants, but there are many options available for older kids, too.
For instance, the Practical Money Skills site has several games, such as Money Metropolis, that helps kids make spending decisions in a safe environment, as well as a couple of Marvel comic books, including the Avengers and Guardians of the Galaxy.
"It's a great mix of fun and entertainment with some light education," says Hindman.
Rabbior says simulated situations can be great learning tools.
"Mistakes are often the best ways to learn, as long as they don't have great consequences," he says. "Later on in real life, if they make a mistake, the consequence can be really significant. It can affect their credit rating and things like that."
3. Decision-making.
"If we could teach young people one thing, it would be that every decision you make involves a trade-off," says Rabbior. "You should take the time to pause and think about what you're giving up, either today or in the future, by the decision you're making now."
While this applies to impulse shopping, it's also true for many longer-term decisions kids need to make as they age into adulthood, such as saving versus spending, or going to university versus going directly into the workforce.
CFEE's Talk With Our Kids About Money program has several resources, including books, games and other activities, to help your children learn decision-making principles.
"We try to structure the activities to be very natural, to be engaging, to be fun, to be something you do that provokes curiosity, that generates a question, provides and opportunity," says Rabbior.
4. Budgeting.
Once your kids understand these beginner financial concepts, it's time to learn how to budget. Practical Money Skills developed an introductory level budgeting app, Plan'it Prom.
The app helps teens figure out how to pay for everything they want for prom while staying within a budget. It's also a great way for parents to see if their children understand the fundamentals of managing money before they strike out on their own.
RBC's online student budget calculator is another useful tool for university-bound high school students and their parents. Teens enter details, such as their expected program of study and whether they will be living at home or going away to school.
"It addresses things to help the parent and teen get through what they anticipate their living expenses will be," says Plant. It includes expenses that might otherwise be forgotten, such as cellphone bills and social outings, and can uncover gaps in expected funds and expenses.
5. Credit cards.
Learning these concepts helps set kids up to make better financial decisions so that parents can feel better about their child's first credit card.
"It's important for young people to understand, especially when they're getting their first credit card, that it's money they're borrowing that does need to be paid back," says Plant.
Additionally, make sure children understand how interest works. Talk to them about how a Boxing Day deal is not such a bargain if they're paying it off for months to come. Practical Money Skills has a cost of credit calculator that can help kids figure out the real cost of an item if they don't pay their credit card bill on time.
"A credit card is a fantastic tool and it has a lot of benefits, but it needs to be used wisely," says Hindman.
Also discuss the consequences of missing payments. CFEE's book, Money and Youth - available as a free download on their website - is a great resource for parents and teens to learn about money management and how credit works.
Finally, keep in mind that you are the biggest tool in teaching your kids about money and credit. Your children are watching you and learning how you handle your own finances.
"Parents are educating their kids about money whether they know it or not," says Rabbior. "They might as well think about it and do it properly."
See related: 5 ways to prepare your kids for a bright financial future, How to negotiate financial expenses with kids, Growing up: Your teen's first credit card
Updated December 15, 2016
Most recent Student Stories
5 money lessons -- and apps -- for kids and teens -- It's important to teach kids about money, and it's easy, too, thanks to these online tools and smartphone apps ...
Growing up: Your teen's first credit card -- The idea of giving your teen a credit card may make you shudder, but with proper guidance, plastic can be a great tool in teaching your older children money management skillsThe idea of giving your teen a credit card may make you shudder, but with proper guidance, plastic can be a great tool in teaching your older children money management skills ...
5 credit card no-nos for students -- While credit cards can serve as convenient payment tools or emergency padding, they can quickly turn into high-interest debt traps for students who use them incorrectly. If you're a student with plastic, try these guidelines to avoid regrets later ...