How to negotiate financial expenses with kids
You're paying for your son or daughter's smartphone, designer jeans and sneakers, plus their annual hockey membership and the pricey equipment that comes with the sport. Before you know it, you're spending thousands to keep your kids' lifestyles afloat.
How do parents negotiate what's necessary to give their kids the best leg up in life while making sure their kids are learning about personal finance and accountability in the process?
"I've seen couples refinancing mortgages because mom and dad maxed out their credit cards to afford their kids' expenses and there wasn't a plan. There's all this debt because they didn't see how to do this as a family," says Alexandra Macqueen, a certified financial planner and Schulich School of Business personal finance instructor. She's also a mom to two teens.
A 2015 study conducted by the Canadian Scholarship Trust found that 66 per cent of parents have, or know someone who has, gone into debt or relied on retirement savings to pay for their kids' extracurricular activities. The report said 43 per cent of parents admitted to using a credit card, line of credit, or personal loan to pay for their kids' expenses.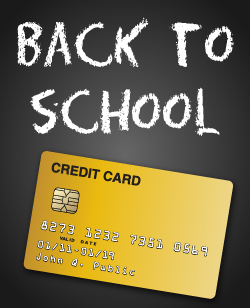 Main: How to handle back-to-school shopping -- without credit

If you aren't organized, it can be easy to rack up credit card debt on school supplies. Two financial experts (and parents) give their tips on back-to-school shopping -- without relying on credit.
Instead of finding yourself in debt from keeping up with the kids, use it as a teachable moment, Macqueen says. Here are four tips to keep in mind:
1. Identify what the expense brings to the family.
Does the expense bring peace of mind for parents, instill values in your kids or promote personal growth? Some expenses are priceless for some households, while others don't see a need for them.
For instance, Macqueen says she believes playing sports teaches life lessons such as dedication, sacrifice and teamwork.
"The idea is this is an investment in your kids' growth and development, and it's an activity that is important for the family," she says.
She likes being able to reach her kids through text or phone call, too. Supplying her kids with a cellphone is as much for family communication as it is a luxury.
2. Get your kids to throw some skin in the game, too.
Don't undervalue your kids' ability to chip in for their school supplies, data plans for their phones or a new fall wardrobe.
"You're helping kids develop their own sense of where they're going to place their scarce resources," says Mark Kalinowski, a Calgary-based father of two and expert with the Credit Counselling Society. "It's the perfect way for kids to ensure they develop their own expenditure plan that's in line with their own values."
Kalinowki says kids can throw in birthday money, allowances, Christmas funds and, when they're old enough, income from a part-time job to help cover their expenses.
There's "sweat equity" too, Macqueen says. Your kids can mow the lawn, shovel the snow or do other chores around the house to earn some of their keep.
3. Be honest, and get your kids involved.
Your kids are watching your decision-making when it comes to finances. If you tell your child you're putting $250 into their back-to-school budget, but spend closer to $500 on your credit card, they'll pay attention.
"Tell them what you're prepared to put on the table, and if they want to spend more than that, it has to come from their budget," Macqueen says. "Not to sound flippant, but that's life -- they're not going to have unlimited funds to buy whatever they want."
Let your kids in on the conversation, though. If they want more wiggle room for a new winter jacket or boots, let them make their case.
"It's tough when mom and dad are making all the rules and they can't fund all their needs and wants themselves," Macqueen says.
Show your children you're working with a budget, but don't inundate them with too much information, such as mortgage payments and utility bills.
"It's important for kids to understand how to budget, that there's a real world cost for certain items," Macqueen says. "Even the wealthiest family in the world will benefit from doing this exercise."
Pick a day once a week or once a month to go over your kids' spending. You can ask your kids what they've done with their cash to get a feel for how well they track their spending.
4. Teach your children choice and sacrifice.
When Kalinowski's kids want designer pants and hockey gear, he tells them they have a choice. For example, he'll say: "You can have all the Lululemon pants you want, but if we buy that, and new hockey gear, that's the trip to Palm Springs we don't take at Christmas."
"We make choices for what we want now and in the future," Kalinowski says.
Don't let your kids get away with saying they'll pay for something and not following through, either. If they agree to paying for overages on data on their phone, they have to pay upfront, not "later."
"Tell them if they're going to go over, you're going to charge them," Kalinowski says, suggesting that you even take $20 as insurance.
Kids are capable of understanding money basics, especially if you begin teaching them from a young age. There doesn't have to be dread when you think about how much your kids want to spend versus how much you have budgeted for them to spend, as long as you take the right approach.
Published August 25, 2016
Most recent All credit card news Stories