Newcomer credit cards: Choose and use wisely
More than a quarter of a million new permanent residents settle in Canada annually. Each of the big banks offers competitive banking packages for new immigrants that include credit cards. But some newcomers who are not accustomed to credit cards find themselves getting into financial problems with them. If you're a newcomer to Canada, consider these tips for using credit wisely (if at all) to avoid disaster down the road.
Brian Smith, an employment counsellor and financial coach for Carrefour jeunesse-emploi in Montreal, has seen such disaster firsthand. He mentors young immigrants aged 16 to 35 who rack up significant debt after misusing credit cards.
According to the 2014 BMO Wealth Institute Report, finding adequate employment and coping with financial constraints are among the top six challenges that newly arrived immigrants face. A common newcomer mistake is using credit cards to compensate for lack of income. "Many create serious problems for themselves because of a lack of knowledge and social pressures to buy now and pay later even if they do not have the money," Smith says.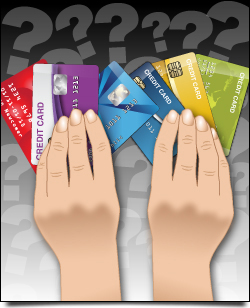 1. Decide if you really need a credit card.
One common misconception is that credit cards are prerequisite to establishing credit in Canada. Paul Le Fevre, director of operations at Equifax Canada, says that Equifax creates a credit file as soon as you open a bank account, regardless of whether a credit card is involved. Canadian financial institutions can request and obtain a credit report from your origin country directly through Equifax.
Smith says that getting a credit card may be a convenience best delayed until after you've developed strong money management habits in your new environment. When that time comes, he recommends researching educational resources available on the Internet before applying for a credit card. For instance, the Financial Consumer Agency of Canada (FCAC) has online documentation that describes in plain language how credit cards work as well as cardholder rights and responsibilities.
Financial literacy training is available at some community service organizations. New Canadians can also approach non-profit credit counselling agencies for individualized advice on credit card usage. Some bank branches regularly conduct newcomer financial advice events, at which participants can ask detailed questions about available credit products.
2. Avoid the minimum payment trap.
Executive director of Consolidated Credit Counseling Services Jeffrey Schwartz says that his non-profit organization assists clients who send money to family members in their home country and end up stretching their budgets.
Some cardholders are convinced that they only have to pay the minimum amount due to keep current on a credit card, an argument they use to justify sending more of their wages back home.
"While the money they're sending is a valiant effort and supports family, taking out payday loans or falling behind on credit card payments puts them in a hole that they may not be able to get out of while they're [in Canada]," Schwartz says.
3. Consider a secured credit card.
Revolving debt under an unsecured credit card can quickly spiral out of control if newcomers treat credit cards as a novel way to access money. One alternative is a secured credit card, which requires collateral equal to your account's credit limit.
Secured cards are also a valid way to improve your credit rating. Le Fevre explains that new Canadians can start building their credit score three months after their credit file is opened by regularly making payments under one secured card.
4. Be careful with shared credit cards.
Another way to obtain your own credit card is by becoming an authorized user under a significant other's primary cardholder account. However, Le Fevre points out that because a secondary cardholder is not legally responsible for any charges incurred, payment history under the account typically won't show up on your credit file and, therefore, will not impact your credit score.
Joint credit cards, on the other hand, do affect your credit score. If you and your spouse, parent or adult child get a joint card and are in good standing, both your credit scores will improve. On the flip side, all co-signers are legally responsible for the joint account's entire balance and associated charges, and your score can deteriorate due to late or missed payments -- regardless of whose fault it is.
Authorized user cards are common in Canada, while joint cards are harder to come by. Christine Shisler, director of client strategies, confirms that RBC allows qualifying new immigrants to become joint cardholders under the account of an established Canadian citizen or another newcomer.
5. Watch your card limits, limit your cards.
Among the five big banks polled for this article, the maximums on credit cards offered to the immigrant audience are $1,000 and up, depending on the applicant.
You don't have to apply for the highest possible maximum, however.
"They can probably start building their credit with a $500-limit credit card, so it eliminates or drastically reduces the risk associated with them going deeply into debt," Schwartz says.
With an array of immigrant-friendly credit cards, including travel and merchandise rewards as well as cash back, another temptation is to sign up for several cards from different financial institutions. Consider not only the terms and conditions on each credit card but also the level to which you can potentially become indebted.
"Newcomers need to do their due diligence as it relates to anything that is offered to them, so it puts them in the best possible position to succeed," says Schwartz.
Immigrant credit card guide
RBC

TD

Scotiabank

CIBC

BMO

Unsecured limits

No set limit

$1,000
$1,000-$5,000

$1,500-$5,000

No set limit

Secured cards

Yes

Yes
Yes
Yes

Yes

Rewards carsd

Yes
Yes

Yes
Yes

Yes

Joint cards

Yes
No

No
No
No
Authorized users

Yes
Yes
Yes

Yes
Yes
Special programs

Banking packages

New to Canada

StartRight
Newcomer
NewStart
See related: Why we pay card fees -- and how to avoid them; 7 surprising facts about your credit score
Updated April 28, 2016
Most recent Card Fundamentals Stories