Online tools, apps to help you manage finances
November is Financial Literacy Month, and it's a good time to start thinking about your financial goals for the new year. However, it can be difficult to know where to start if you have never had a solid financial plan before. If sitting down with a pencil and paper seems tedious, there are plenty of online tools and apps to help you with budgeting and monitoring expenses.
"It's very easy to lose track when you're not monitoring yourself because you don't know whether you are on or off track," says Victor Godinho, president and senior financial planner with PANGEA Personal Financial Planning. "The key is having something in place that allows you to monitor yourself."
These online tools and mobile apps can help you keep your finances in check no matter where you are, since you have everything you need right on your smartphone, tablet or laptop: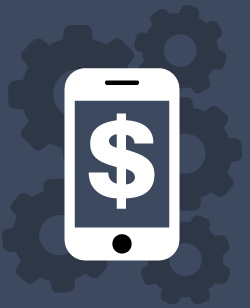 1. Your bank.
Most major banks have mobile and desktop personal finance apps that go beyond simple banking and bill payment needs. You can set alerts on your accounts to let you know when your balance dips below a certain point so you can rein in your spending. Or, you can be alerted when you reach a particular savings goal.
Most bank apps also allow you to set a budget and include a tracking feature that categorizes your expenses and shows you how much of your income is going to each category.
The budgeting and tracking features help keep your spending on track, says Natasha Carr, manager of community and public relations with Consolidated Credit Counseling Services of Canada.
"Almost 50 per cent of Canadians live from paycheque to paycheque, and a lot of times, we get so caught up in life that we don't see where we can cut back and get extra savings," she says.
The downside of bank apps, Godinho says, is that when you use multiple financial institutions for banking, credit cards and loans, you can look at only one piece of your financial picture at a time.
"If you look at everything in silos, you don't really have a full picture," Godinho says. "When you aggregate it all, you are way more informed."
RBC Royal Bank's myFinanceTracker, however, does allow you to link accounts and credit cards from other financial institutions to the app so that you can get a clearer picture of your overall spending.
2. The Financial Consumer Agency of Canada.
The Financial Consumer Agency of Canada (FCAC) has several financial planning tools available on its website. You can even take a financial literacy test to find how good your money management skills are and what areas need improvement.
There is also a budget calculator. You can either download this tool as an Excel spreadsheet or complete it online, and the spreadsheet includes items people tend to forget when creating their own budgets, such as holiday spending. Once you enter your monthly totals, the calculator figures the annual totals and the percentage of your income that should go to each budget category.
The FCAC website also has a credit card selector tool and a credit card repayment calculator.
3. A debt or credit help company.
Credit Canada Debt Solutions has some great online resources, including a debt calculator that will show you just how much you'll pay in interest over the life of your debt.
The budget calculator, meanwhile, helps you figure out how much money you could save by cutting back on discretionary items.
Consolidated Credit Counseling Services also has a budget app. The app shows historical expenditures, helps you budget and even provides tips to cut your spending.
"If you're kind of intimidated by using some apps ... this app is very easy, and you can export reports via email," says Carr. However, it's only available for iPhone now.
4. Ontario Securities Commission.
The Ontario Securities Commission, through its Get Smarter About Money website, offers a whole suite of resources for budgeting, savings and paying down debt. You'll find useful budgeting tools, plus a credit card and debt payoff calculator.
You can enter details for up to eight different debts - any combination of credit cards, mortgages, lines of credit and car loans. The calculator will help you make better financial decisions by showing how long it will take you to pay down your debt and suggesting which of these debts you should pay down first.
5. Your smartphone's app store.
My Finances and Wally are just two popular apps that allow you to create budgets, assign expenses to categories and get an overall picture of your spending. Just search for "budget" or "finance" in your phone's app store and review all the top-rated apps to determine which one is best suited for your needs.
"I am well aware that time is of the essence, relative to working schedules and social lives," says Godinho. "So, try to make it as easy as possible with the tools that are available."
Godinho prefers to avoid data entry completely and relies on the Mint app. With Mint, you create a customized budget. From there, everything is done automatically. With discretionary spending, you'll receive notifications in real time when you get close to reaching your budgeted amounts. The app also will send you reminders seven days before your bills are due to help you avoid penalties and interest.
Real-time tracking is possible because "you actually log in to your online banking, but through Mint's portal," Godinho says. "They use the same level of security as the main banks."
Carr recommends Manulife's Goalkeeper app, which helps you track your spending and your savings.
"You can create various savings targets, and the app will follow your progress and also offer suggestions to maybe adjust your spending habits, especially if you're reaching short of your savings goal," Carr says. For example, you can set goals for paying down your debt and saving money for the holidays, and the app will let you know if you fall off target.
Carr also recommends Canada Post's ePost app, which is available for desktops, tablets and smartphones. You can add all your monthly bills, including your credit cards.
"It can manage all of your bills, help you declutter, and gives you a clear view of your bills all in one place," Carr says.
You can set up alerts to remind you when your bills are due, and you can even link the app to your financial institution so that you can pay your bills online, she says. You can save the monthly charge for paper bills and avoid late fees.
Security in third-party finance apps
While the security on most top-rated apps is high, check with your financial institution to make sure that you won't be liable for any unauthorized transactions on your account when you use a financial-tracking tool. On its website, the FCAC warns that "this could happen if you provide your financial information to a financial aggregator that allows you to keep track of all of your various financial accounts (such as bank accounts, brokerage accounts and credit cards), using a single website or application."
However, apps can also alert you to fraud, as Godinho discovered when his credit card was compromised several years ago. Real-time tracking meant he discovered the fraudulent activity and reported it to his credit card company immediately.
Regardless of what tool or app you use, "If you want to achieve financial success in some way, shape or form, or be moving forward in your financial life, adopt some of these tools," Godinho says. "They do make your life easier, and they do help you achieve what you want to achieve."
See related:
Third-party financial apps: convenient, popular -- secure?
,
4 ways to make digital convenience work for your budget
,
How to conduct a year-end postmortem on your finances
Updated November 30, 2016
Most recent Product Features Stories