Credit cards raise stakes for online gamblers
When Ontario Lottery and Gaming Corporation's (OLG) gaming portal goes live sometime after this summer, players will be able to pay for slots, blackjack, baccarat, poker, and lottery tickets with credit cards.
But before you play on PlayOLG.ca, ask yourself: Just because you can use a credit card to gamble online, does that mean you should?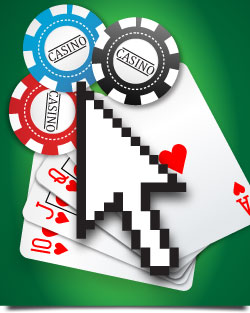 Nina Littman-Sharp, problem gambling service manager at the Centre for Addiction and Mental Health, acknowledges that the OLG website will encourage responsible gambling through educational information, and has a feature that enables consumers to self-exclude (that is, ban themselves) from playing. Nevertheless, she is concerned that government sanctioning could embolden more people to immerse themselves in Internet gambling.
Credit cards and gambling in private not a good combo
Gambling with credit cards is wildly popular. In fact, a 2010 Ipsos survey showed that 55 per cent of respondents preferred credit cards for funding their Internet gambling accounts -- far ahead of e-wallets
(18 per cent) and electronic funds transfers (17 per cent). But does
that make them more at-risk?
Doug Hoyes -- licensed bankruptcy trustee and co-founder of Hoyes, Michalos & Associates -- has seen first-hand how online gamblers are much more likely to get into overwhelming debt using credit cards versus debiting cash from their bank accounts.
"I've worked with online poker players who lost money and borrowed in an attempt to win it back, which just leads to deeper problems and more debt," he says.
Littman-Sharp agrees: "People can go from a very small credit card transaction to a thousand dollars more than they should have gambled," she says. "A year later, it's a $100,000 debt."
Littman-Sharp says another danger with online gambling is its continuous availability via computers, smartphones, tablets and other mobile devices.
"Because Internet gambling can be done in the privacy of your home or office, chances are people will spend more and take additional risks on credit," agrees Hoyes.
Understanding cards' rules about gambling
Littman-Sharp says consumers misunderstand card issuers' rules about Internet gambling.
RBC Royal Bank's cardholder agreement excludes online gambling transactions with an unlicensed establishment. RBC media contact Lena Wan clarifies that "engaging in Internet gambling on sites operated by authorized entities [such as the provincial or territorial governments of Canada] is permissible."
However, TD Canada Trust spokesperson Lynzey MacRae says customers technically have not been allowed to use TD credit cards to pay for online gambling transactions since Sept. 1, 2009.
Yet TD credit card holders continue to use their cards on regulated Canadian gambling websites, according to BC-based PlayNow.com services representative Pennie Harrington.
TD's cardholder agreement does give the bank an ace in the hole.
"We always reserve the right to block transactions that may be unauthorized, illegal or fraudulent -- including transactions relating to Internet gambling," says McRae.
She also says most charges for Internet gambling are treated as "cash-like transactions" -- interest is payable immediately once an amount is withdrawn from a credit card for deposit into the player's account. Buying charity lottery tickets online is a potential exception. She recommends that consumers ask their card issuers directly if they are not certain how any online gambling transaction is treated.
Recognizing you have a problem
There is a line between enjoying a harmless pastime and addiction. But if you think you may have crossed the line, there is hope.
CEO of Credit Canada Debt Solutions, Laurie Campbell, and her team of debt management counsellors have seen many people refrain from Internet gambling once they make a concerted effort.
"According to my readings, only about 3 per cent of adult Ontarians would be termed as having a severe (or pathological) problem and should not play at all," says Campbell.
Littman-Sharp advises that anyone who participates in virtual gambling should keep in mind that more you gamble, the more you lose -- and that credit cards can multiply those losses.
"Online gambling websites aren't in the business of giving you money," she counsels. "They're in the business of making money for the website owners, which in this case is the provincial government."
Online Gambling Safeguards
Define a weekly, daily or monthly budget for online gambling and stick to it
Set strict time limits for your game play
Take frequent breaks so you don't get trapped into continuous gambling sessions
Don't use your credit card to fund playing beyond your means
Get counseling help as soon as you start losing more money than you intended or can afford
Understand that anything done to an excess causes problems -- including online gambling
Sources: PlayOLG.ca Responsible Gambling Tips, Canada.CreditCards.com interviews
See related: Cybercrime is nothing to like or share; Why digital payments won't replace credit cards
Published May 1, 2014
Most recent All credit card news Stories