Online shopping soars but so do debt risks
Buying online has become the norm for many consumers. While it's hard to argue with convenience, online spending can easily lead to runaway debt if you don't shop wisely. Whether you use a spend-tracking app, take extra time to input your credit card information each time you check out or simply eliminate temptations, you should be taking some measures to control spending.
Last year's holiday season saw explosive growth in web-based shopping. Canadian online shoppers spent an average of $746, versus $382 for those who do not shop online for gifts, according to J.C. Williams Group's 2013 Canadian E-tail Report. The retail consulting firm's senior partner Maureen Atkinson says the split between online channel and in-store spending has held up throughout 2014, which suggests an ongoing trend rather than a seasonal blip.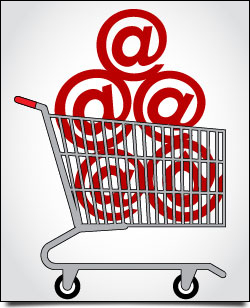 Jeffrey Schwartz, executive director at Consolidated Credit Counseling Services, says paying by credit card for online purchases results in extra degrees of separation from budget realities while consumers comfortably shop in their pajamas with money they don't have. "Compared to paying with cash in an actual store, online it's a lot easier to spend impulsively without much thought," notes Schwartz.
Instant gratification drives downloadable purchases
J.C. Williams Group's report also found that downloaded entertainment items such as movies, music and games were the most popular products purchased online. David Hardisty, an assistant marketing professor at the University of British Columbia, says digital downloads dominate sales because you can get the same product sold in brick-and-mortar stores with no shipping charges -- and without getting off your couch.
"Even if you want to buy a CD at a store, it takes a little while to go out and buy it, get it home, take off that annoying packaging and listen to it," says Hardisty. And in a smartphone-dominated era, having music or movies available immediately in your device (without uploading it to a computer and synching it) is almost essential. Smartphones also make online shopping omnipresent. Whether you're laying in bed or waiting in line at the grocery store, making an online purchase is as simple as a few taps of your finger.
Spending on auto-pilot can lead to debt
The flipside is that 24/7 immediate gratification can quickly accumulate serious amounts of debt. Online shoppers face myriad temptations.
Many websites allow you to automatically charge your account without having to fill in purchase details. After the first transaction, you can then buy without physically entering how you will pay. Other websites enable consumers to register their credit card information, which is then used to automatically reload coffee apps, transportation passes and retail gift cards. These technological advances can lead to debt problems because they remove the human decision-making process from the equation.
"The more automatic spending is, the more likely we are to not keep track or possibly remember what was spent," explains Donna Mihalcheon, trustee in bankruptcy and senior vice-president of BDO Canada Limited. "The key is to be actively involved in your bank balances by checking them regularly -- daily in fact -- to ensure there is enough money to pay the bills when they are due."
Schwartz recommends that consumers disable the auto-fill function on their online shopping accounts as a way to gain valuable reflection time (even though most consumers prefer not to re-enter their information each time, according to an October 2014 PayPal survey). Mihalcheon also recommends setting rules where you only buy after considering the purchase for a full 24 hours. She says this gives consumers time to think about spending the money and the opportunity to do in-depth research on the item.
Be wary of marketing tricks
To control your online spending it helps to know the psychological ploys that marketers use so you can be on guard against them. Some merchants regularly send out "special deal" emails, hoping to entice consumers. Mihalcheon says unsubscribing from these websites is an easy way to reduce the urge to pursue offers you can't afford.
Hardisty adds that you might be more trusting online than in person, thanks to product reviews from other shoppers. Given that people tend to trust comments from other buyers over in-store staff claims, Hardisty says to focus on what you're spending rather than on testimonials, which could lead to purchases you'll later regret.
Another marketing ploy websites use is putting a time limit on sales to pressure you into making impulse purchases. Mihalcheon says the less time you have, the more likely you may be to buy with a credit card -- you may feel rushed and be unsure of whether you can afford to have the purchase come directly out of your bank account, so you put it on credit to be safe. You may forget the exact cost of the purchase, which is unhelpful in tracking spending.
Beware of instalment plans, too. Michael Forrester, CEO of Mercantile Crossing, a firm specializing in international digital commerce, says such retailer-backed plans are a significant attempt to attract consumers who wouldn't buy an item without that easier-credit inducement.
Finally, you may go to check out and find a list of related products that previous visitors bought. For impulse spenders, this spells trouble. Just keep on scrolling or look the other way.
Use technology to fight debt
While having 24/7 access to retail sites can be dangerous, it can also be helpful. According to Forrester, prudent planning and comparison shopping using search engines and digital coupons can temper the impulses associated with online shopping.
Debt management professionals also encourage consumers to use technological innovations. Mihacheon says smartphone apps make it just as easy to manage your money as it is to spend on web shopping. One example is Consolidated's free smartphone budgeting app, which helps you set goals and keep track of what you're spending.
See related: Credit cards raise stakes for online gamblers; 5 myths about credit card security after a retail data breach
Published October 22, 2014
Most recent Shopping Stories