Ways to overcome the stigma of debt
Not being able to pay your bills on time is hard, but not being able to talk about it is even harder. Even though it's common knowledge that the economy is shaky, that unemployment is up and that household debt is reaching record levels, experts say Canadians are still too embarrassed to talk about their financial woes.
"Money is a taboo topic," says Brad Klontz, a clinical psychologist ,certified financial planner and founder of the Financial Psychology Institute. "We don't talk about it and we don't know how to talk about [debt] because it's associated with a lot of stigma."
According to a 2014 Financial Planning Standards Council poll, 45 per cent of Canadians say they're embarrassed to admit they've lost control over their financial situation. Of those surveyed, 42 per cent ranked money as their greatest source of stress, and many admit to losing sleep over financial stress.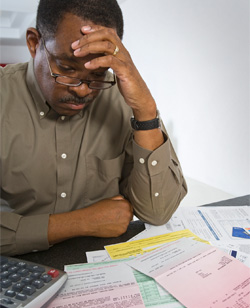 Yet, the building stress is not incentive enough for Canadians to talk about their money troubles.
"People's confidence and self-worth is often tied to how much money they earn," says Pat White, executive director of Credit Counselling Canada. If you're feeling the stigma of debt, remember that you are not failing, nor are you alone. Give yourself these reminders to shake the shameful connotations of debt.
1. Debt is often temporary -- and not a reflection of you
Sometimes, fortune isn't in your favour: your personal business goes bust, your spouse gets sick and can't work or roof repairs leave you
on the hook for a $20,000 bill. If you can pinpoint the event that led
to your debt pile, it's likely that you didn't have control over it, White says.
"There is this guilt and shame that, 'I should be able to pay this
money back,' but in some cases, we can't avoid [having debt]," she says.
2. Your behaviour may be learned habits
The way you look at and manage money goes back to your upbringing. For instance, perhaps your parents constantly argued about bills, or often scolded you for wanting or making an indulgent purchase.
"These are your beliefs about money that you were taught and if you are able to uncover what you learned, it would perfectly explain your money behaviours now," Klontz says.
You can take solace in the fact that it's not entirely your fault, he says. However, it's now your responsibility to correct problematic habits. Being cognizant of your vulnerabilities is a major step toward being able to do that.
3. You're not the only one in debt
Canadians of every age and gender are grappling with debt of all kinds: credit card, student loan, mortgage or a line of credit.
"If you overspend and you're not saving enough, that makes you an average consumer," Klontz says. "I spend a lot of my time normalizing the shame, but we need to -- as a culture -- understand we've based our financial lives on erroneous information."
He points out that having debt is often seen as being lazy and unmotivated. The veil needs to be lifted in portraying consumers in debt as hardworking people trying to make ends meet, he says.
4. Being honest can help relieve some pressure
The only way to break through the negative connotations of having debt is to strike up a conversation. The key is to be open and honest, and to encourage others around you to be open as well.
White suggests starting the conversation with a general topic without making the conversation specific to you or the person you're worried about.
"It starts you with talking about money in an outside kind of way," White says. For instance, if you're concerned that your grown child is grappling with debt, tell them about the money challenges you faced at their age. If you're the one struggling, be honest with those around you. For instance, if you're invited out, instead of making excuses, politely decline and explain that you're saving money right now. You don't have to get into all the details, but chances are, the other person will completely understand, and you don't have to feel like you're hiding something.
"We need to start the talk about money and to be more open when we get pressured to spend," White says. "There's no shame in it."
See related: Psychological toll on marriage of debt, income disparity, Preparing, caring for the finances of dementia patients, How to pay off debt without isolating from friends
Published March 15, 2016
Most recent All credit card news Stories