Overlooking purchase insurance can be costly
Software developer Ram Balakrishnan was skeptical about his credit card's purchase security benefit when his son broke a new video game console shortly after opening the gift. But after checking with the card issuer, Balakrishnan was pleasantly surprised to receive a cheque covering the console's full purchase price within a month of submitting a claim.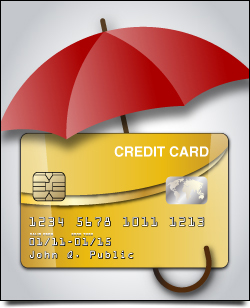 Purchase security -- also called purchase protection, purchase insurance or assurance -- can be a great (and free) perk to have on your credit card. With it, you can get a replacement, repair or reimbursement on eligible items lost, stolen or accidentally damaged within 90 days from their purchase date. But not everyone is fussed about having it, putting it behind priorities such as rewards, vehicle rental insurance, extended warranty and roadside assistance, according to a RedFlagDeals poll and an American Express study. According to some experts, though, consumers should want this overlooked benefit, as it can prove itself useful.
The perks of purchase insurance
Purchase security is automatic under three-quarters of the American Express, MasterCard and Visa credit cards listed by the Financial Consumer Agency of Canada's card selector tool.
Coverage amounts can be significant. Some cards, such as the no-fee BMO Air Miles MasterCard and CIBC Dividend Visa, feature an overall lifetime maximum of $60,000. The RBC Cash Back MasterCard has a $50,000 annual limit, while President's Choice Financial MasterCard has both a $1,000 per incident cap and a $50,000 lifetime ceiling.
Purchase security covers items bought worldwide, whether in person or online. Consumer electronics, including smartphones and new clothing, are generally eligible, according to TD Canada Trust spokesperson Lynzey MacRae. So are jewelry, gems and watches that the cardholder was wearing when the loss occurred.
Terms, conditions and limitations
Purchase security reimbursement depends on an individual assessment of each cardholder's claim. Greg Skinner, communications manager with RBC Insurance, encourages customers to discuss claim questions with a client services representative or review online insurance certificates.
Purchase security can involve subtle nuances, which vary by card issuer. For example, RBC's free card benefit doesn't reimburse for golf balls lost or hockey sticks broken during the normal course of play.
"But if your new stick or golf balls are stolen from your car, they are covered for 90 days from the date of purchase," says Skinner.
If you buy expensive merchandise, such as a Canada Goose parka that turns out to be fake, purchase security won't help because the coverage specifically excludes counterfeit items.
Cardholders are also out of luck if their loss involves most motorized vehicles, although some credit card benefits specifically cover lawnmowers, snow-blowers or powered wheelchairs for handicapped persons. Bicycles are also covered.
Which brings us to the notorious "mysterious disappearance exclusion." Some consumers argue insurers use this clause as licence to dismiss any lost item claim that would otherwise be eligible under the purchase security benefit. Skinner says losing a new purchase, such as a pair of eyeglasses, is reimbursable, provided cardholders submit satisfactory proof to the credit card insurer.
"However, if you cannot explain what happened to your purchase or offer no credible explanation, the mysterious disappearance exclusion will apply," adds Skinner.
Why consumers ignore purchase security
An informal poll conducted on the consumer forums website RedFlagDeals shows that purchase security is well down on the list of free credit card benefits valued by consumers -- far behind extended warranty, vehicle rental insurance and roadside assistance.
Comments for that poll indicate that consumers are more interested in credit card rewards, a notion validated by a 2013 American Express Canada study that identifies cash-back rewards, product rewards and travel rewards as the most valued credit card perks.
Similarly, American Express spokesperson Isabella Mise says survey respondents chose worldwide customer service (74%) and travel insurance (61%) as important credit card attributes.
Kelly Peters, CEO of behavioral economics consulting firm BEworks, says that low APRs and balance transfer offers may seem more attractive to consumers because they appear to offer immediate advantages.
Peters highlights three other reasons why credit card benefits like purchase security aren't as appealing from a consumer psychology perspective.
1. Advertising constraints. Credit card insurance benefits involve legal complexities that make it hard to advertise in a way that satisfies regulatory compliance requirements while communicating messages that a general audience can readily understand.
2. Insurance is boringly complex. While rewards are comparatively easy to grasp, it's much harder to get consumers interested in insurance benefits. "You're insuring against events that are difficult to imagine happening to you, thus credit card insurance taps into some cost-benefit mental processing that is a tough slog for most people," says Peters.
Mississauga's Efrin Vesleno drives his point home.
"I use credit cards and, yes, there are various free insurance benefits, but I've never had to make a claim or even thought much about purchase security," says Vesleno.
3. Perceived hassles. Peters also thinks that consumers overestimate the paperwork, restrictions and deadlines involved in making a purchase security claim. She says, "We exaggerate the hassle factor in our own minds, when, in fact, it may very well be worth our time."
According to Peters, some consumers don't even bother to compare APRs -- much less pay attention to credit card insurance benefits.
"People don't very often study what determines the best credit card at a basic level, in terms of making the distinction between how they use the card and what the right card for them would be -- as a result, card companies lose their audience long before consumers consider a benefit as useful as purchase security is."
See related:
5 ways to get a store refund on your credit card
;
Dealing with deceptive credit card advertisements
Published April 2, 2014
Most recent All credit card news Stories