Are paperless statements in the cards for you?
There's no shortage of financial institutions urging you to switch to paperless statements these days. It may sound like an easy decision, given Canadians' Internet banking habits. But consumer opinions are actually conflicted, with strong feelings on both sides.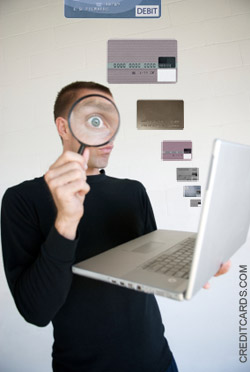 With Canada's six largest banks spending $7 billion developing systems in 2011, it should come as no surprise that user-friendly online statements are readily available. And many Canadians like them. The Canadian Bankers Association says that 47 per cent of Canadians used the Internet as their primary banking method during 2011 and Statistics Canada reports that 68 per cent of web users aged 16 and over went online in 2010 to pay their bills, transfer funds and view account statements.
However, many North Americans remain loyal to paper. Our unscientific poll of a few dozen people about their billing preferences found the two sides equally divided.
Hard copy die-hards
Roughly half of the people we asked say they prefer paper statements. Victor Ricciardi, author of "The Psychology of Risk" and finance professor at Baltimore's Goucher College, is one of them. He says while he pays his bills online, he's still attached to the hard copies he gets in the mail.
The behavioural finance analyst believes that, like him, many consumers find a psychological advantage in being able to hold their statements in their hands. "One way I feel I have control of my payments is paper statements," he says. "I have a complete mistrust of the complete electronic payments issue."
Ricciardi also thinks that storing and archiving statements is easier with paper -- especially if you haven't developed a habit of saving the PDF of your electronic statement. "Here in the U.S. we generally only have access to the last 12 to 18 months of electronic statements, and beyond that we get charged for them," he explains. He keeps statements for seven years for tax purposes.
Jeffrey Schwartz, executive director of Consolidated Credit Counseling Services, agrees that hard copies are more convenient for checking previous statements, particularly for consumers not connected to the online world. He worries that relying on paperless credit card statements for his own bills could result in missed or late payments.
"I still want to receive all of my statements through the mail because if I shut off my computer, my bills go away," says Schwartz. "Ultimately, it's too easy for me to ignore a statement that becomes 'out of sight, out of mind' when there's not something physical indicating that I've got a bill to pay."
Tuned into online statements
Voices in favour of electronic statements are equally strong. For people who spend a lot of time online, the tools for managing bills outweigh the physical benefits of paper. Asked through Twitter whether paper statements safeguard against late or missed bill payments, freelance writer Krystal Yee tweeted, "Email alerts and statements are just as good a reminder as getting something in the mail -- maybe even better."
Personal finance blogger Robb Engen, is committed to online statements. "I don't see the downside to going digital," replies Engen in our Facebook discussion. "Besides saving the environment and reducing clutter, you're also saving yourself a couple of bucks because most institutions are charging for paper statements."
Globe and Mail columnist Rob Carrick is another paperless fan. "I haven't had a paper credit card statement in years," writes Carrick in the same Facebook thread. "As soon as I get an option to get paperless statements for anything, I take it. Online statements are archived online and I can print as required (not that I ever have)."
Choosing paper or paperless
Some Canadians file their credit card statements for up to seven years, believing that they may need those paper copies if they are ever audited by the Canada Revenue Agency. The reality is that the CRA requires receipts that itemize individual purchases. Credit card statements list only the total amount charged at a specific merchant.
"A statement does not constitute proof of an eligible expense," says Cleo Hamel, a senior tax analyst with H&R Block. "For that reason, the CRA will normally require supporting invoices." Hamel notes that the CRA is moving to a system in which proof-of-payment receipts can be sent to them electronically.
The Financial Consumer Agency of Canada encourages cardholders to scrutinize their credit card statements for mistakes and fraudulent charges. But because most card companies require consumers to dispute a statement transaction within 30 or 60 days from statement issue date, filing away paper statements for seven years is unnecessary from a dispute standpoint.
Even if it is required for some reason, many credit card issuers, including Royal Bank of Canada and TD Canada Trust, provide electronic credit card statements in PDF format that customers can store on their computers. Neither RBC nor TD charges for initially providing the PDF versions.
Then there is the commitment issue. Some consumers who cling to hard copy billings are concerned that once they switch to online, they will give up their rights to paper copies forever. That fear appears to be unfounded. President's Choice Financial, RBC and TD provide written assurances that cardholders can switch back to paper statements at any time.
Future outlook for e-statements
The paper-versus-paperless decision comes down to your individual preferences, which can also be entrenched habits. But the shift to online-only statements marches on.
The 2010 Statistics Canada report shows that 80.1 per cent of Internet users aged 25 to 44 went online to view their banking statements. That suggests that digital credit card statements are part of a youth-driven trend that will only grow as younger generations replace the old.
See related: 5 credit card statement tricks and traps; Making sense of your credit card statement
Published February 21, 2013
Most recent Credit Account Management Stories