Payday loan battle puts spotlight on consumer safeguards
Government actions in Ontario against a payday lending company highlight the growing concern about sky-high consumer borrowing rates in the payday loan industry. Ontario's registrar for payday loans is trying to revoke the licenses of Cash Store Inc. and Instaloans Inc., which are both owned by Edmonton-based Cash Store Financial Services.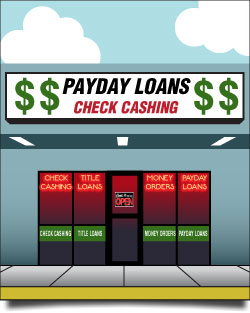 The provincial authority alleges that Cash Store is skirting caps on borrowing costs by charging customers extra fees. The cap, spelled out in the province's Payday Loans Act, is $21 per $100 borrowed.
The case is part of a larger trend that has the many industry players under fire. "2012 is the first year that payday loans have appeared on our Top 10 List of Consumer Complaints and Inquires," notes Joshua Henry, a media adviser for Ontario's Ministry of Consumer Services.
Cash Store has asked for a judicial review. It says it no longer offers payday loans in Ontario, and that since September 2011, Ontario Ministry of Consumer Services' protection branch has been trying to force Cash Store outlets and associated Instaloans websites to dispense payday advances in cash rather than via safer electronic formats.
The proposal to cancel Cash Store's lending licence is now immersed in a long and complex legal process. For consumers, the developments point out the need to be aware of your rights, become more financially literate and explore other short-term credit alternatives.
Provinces regulate payday loans
President of the Canadian Payday Loan Association Stan Keyes explained in a telephone interview that, when he assumed his role in October 2006, the federal government had decided not to implement national payday loan laws. Instead, Parliament passed Bill C-26, enabling a provincial government to oversee payday lenders, provided the province has legislation in place protecting consumers and specifying a maximum payday loan charge.
"British Columbia, Alberta, Saskatchewan, Manitoba, Ontario, Nova Scotia and soon Prince Edward Island are responsible for licensing payday loan lenders within those seven respective provinces," says Keyes. "New Brunswick has their payday loan act ready and they're just finishing up their regulations."
Illegal charges
In Ontario, some payday loan operators have been accused of exceeding the legal limit on total borrowing costs, a boundary that includes all fees arising from a loan. To illustrate how that could happen, Ontario's Ministry of Consumer Services provides a hypothetical scenario:
A payday lender might impose the following charges on a $200 loan:
$17.95 for a prepaid access card;
$29.95 for a bank account fee;
$7.95 for a monthly card fee;
$10 for the card's money-loading fee; and
$12.21 for loan insurance.
A total $78.06 in fees is added to the borrowed amount, increasing the loan to $278.06. The payday lender then applies the $21 per $100 rate to this higher amount, and charges $58.39 as the cost-of-borrowing fee. The consumer also pays a $1.50 per-transaction service fee if she or he accesses funds from an ATM.
Assuming one ATM transaction per loan, the borrower pays a total $137.95 for a $200 payday loan when Ontario's legally allowable cost is $42.
Consumer protections
If the offending lender is a member of the Canadian Payday Loan Association, borrowers can complain to the CPLA's Consumer Response and Resolution Bureau at 1-800-413-0147 or via email at inquiry@cpla-acps.ca.
"Then we will intervene between the customer and our lender, working with both to try and resolve the issue," says Keyes, adding that CPLA members must abide by a code of best business practices.
For complaints against non-member payday lenders, the CPLA can direct you to the appropriate provincial authority such as Ontario's Ministry of Consumer Services or British Columbia's Consumer Protection B.C.
On its website, the Ontario Ministry of Consumer Services presents a payday loan bill of rights explaining that the payday loan agreement's first page must clearly specify the borrowed amount, repayment period and total loan cost. No fees can be deducted from the payday loan amount, such that a consumer approved for a $200 loan must receive the full sum.
Payday lenders must give consumers the loan money as soon as they sign the contract. For applications taken by phone or over the web, the lender has one hour to deliver the money. Consumers have a cooling off period of two business days to cancel a payday loan without penalty. Borrowers are also legally insulated against harassment from loan collectors, who must adhere to strict rules of conduct.
Payday loan alternatives
The average payday loan is $300 with a two-week term, according to a 2009 Ontario advisory report on the Canadian payday lending industry. That same report found that nearly 40 per cent of borrowers failed to realize that their payday loan was more expensive than other forms of consumer credit.
Consider that a $300 payday loan for 14 days can legally cost up to $63 given Ontario's $21 per $100 limit. In contrast, a $300 purchase made on a credit card with a 17.5 per cent APR incurs $2.01 in interest costs over that same period.
And while much has been written about the evils of credit card cash advances, they're a bargain compared to payday loans. The BMO Preferred Rate MasterCard charges the same 17.5 per cent interest rate on both purchases and cash advances, plus a $4 advance fee. That brings the total expense for $300 over 14 days to $6.01 -- less than one-tenth of Ontario's maximum payday loan charge.
There are even less-expensive ways for consumers to deal with short-term cash crunches. Putting $300 on an existing secured home equity line of credit (HELOC) for 2 weeks at 3.5 per cent generates about 40 cents in interest.
An even better option is to build up an emergency fund, take on a part-time job or work extra hours. That way, you can cope without borrowing when a sudden demand for money arises.
See related: Why you should avoid credit card cash advances; The top 5 reasons why you're unable to save
Published March 1, 2013
Most recent Credit Account Management Stories