5 credit card perks you might not know you have
Credit cards are more than just a way to manage your short-term cash flow. The credit card industry has become ultra-competitive, and in an effort to gain new customers, card issuers offer all kinds of unique perks with their cards. Cardholders might enjoy early access to event tickets or upscale airport lounge access. These lesser-known perks can not only provide unique experiences, but they can help you save money. Here are five perks you may not know about.
1. Free companion plane tickets
Some annual fee travel rewards credit cards, such as the American Express Air Miles Reserve card, offer one free companion plane ticket per year. As the name suggests, once you earn the required amount of points, you can get a free ticket for a friend or family member. Though the ticket is free, other fees, such as fuel surcharges and taxes, may apply. You may also have to work around blackout periods.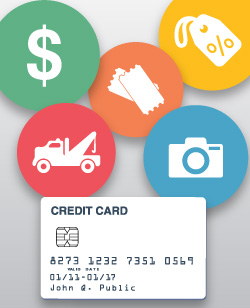 2. Early access to event tickets and preferred seating to events
MasterCard World and World Elite cardholders enjoy a host of
benefits, including early access to tickets and preferred seating for the most popular events across the country, including sporting events,
concerts and theatre performances. You may even get access to events
that may have already sold out to the general public.
"This is a smart perk that some credit cards have started to offer," Jason Heath, managing director at Objective Financial Partners, said
in an emailed response to questions. "I like it because it's unique and offers a real differentiator from other cards. The problem is it's hard to assess the benefit in advance because you don't know which events will be eligible."
Credit card issuers usually hold presale promotions in which you can buy the best tickets before everyone else. You can generally find information about such promotions on your issuer's site or the website of the venue selling the tickets for the event.
For example, Ticketmaster, an online ticket site, will email anyone about special presale offers, and will list which cardholders are eligible for the offers. You can then apply for the card if you like. And MasterCard's Priceless Toronto program will email you about experiences and opportunities in Toronto, which will include offers exclusive to cardholders.
3. No foreign transaction fees
If you travel abroad frequently, you should consider signing up for a credit card that has no foreign transaction fees -- that is, the fee charged simply for using your card outside the country. The Amazon.ca Rewards Visa Card from Chase, Marriott Rewards Premier Visa and Rogers Platinum MasterCard are a few of the credit cards on the market that offer this perk.
With the typical credit card charging a 2.5 per cent foreign transaction fee, the savings can really make a difference.
"Foreign [transaction] fees can easily add a couple of percentage points to a transaction and are a direct financial cost of using your card for foreign transactions," Heath said. "This is a must for a business traveller or snowbird."
However, just because your credit card doesn't have a foreign transaction fee, doesn't mean you won't pay fees on foreign purchases. You may still have to pay a foreign exchange fee, also known as a currency conversion fee, which is the fee a merchant charges to convert an overseas transaction to your country's currency.
4. Free roadside assistance
Stranded on the side of the road? TD Gold Elite Visa cardholders enjoy free roadside assistance via the Deluxe TD Auto Club Membership; other TD cardholders have the option of adding this feature for a fee. Roadside assistance covers you if you're travelling anywhere in Canada or the continental U.S. (that excludes Hawaii and Puerto Rico). The Deluxe TD Auto Club Membership comes with a number of other features, including battery boosts and fuel delivery, flat tire changes, towing to the nearest service centre (within 200 kilometers) and rental accommodations.
Another car-related perk is car rental insurance. Before purchasing it from the car rental company, find out if you're already covered by your credit card's car rental insurance.
5. Upscale lounge access and priority boarding and check-in
Why deal with the hustle and bustle of the airport when you don't need to? Some premium credit cards give you free access to upscale airport lounges. For example, CIBC Aerogold Visa Infinite cardholders enjoy one free visit to the luxurious Air Canada Maple Leaf Lounge when travelling on a flight redeemed under the Aeroplan travel rewards program.
Airport lounges offer travellers plenty of perks. You can enjoy zones free from cellphone chatter, or indulge in some of the lounge's free snacks and beverages.
The Aerogold Visa Infinite also offers cardholders priority boarding and check-in when redeeming Aeroplan reward points to travel, allowing you to pass through security in a breeze and get your luggage checked in an instant.
See related:
How to make the most of your Air Miles rewards
,
6 ways cardholders can save on vacations
Published June 1, 2016
Most recent All credit card news Stories