Expert Q&A: Plastic that's good for the planet
Credit cards aren't exactly known for being eco-friendly. But Bridgewater Bank and its credit card supplier, CPI Card Group, hope to change that perception.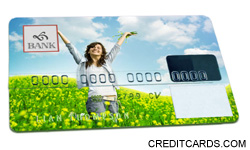 The two companies have been recognized with a Canadian innovation award from Advanced Card Technologies for their new credit card, Bridgewater Bank's Canadian Automobile Association (CAA) MasterCard credit card, which is biodegradable so it won't clutter landfills after it expires.
Felipe Papaleo, CPI Card Group's executive vice president of sales and marketing, explains why the company's new card won't hurt the planet and why more Canadians are ready for eco-friendly financial solutions.
CreditCards.com: What makes the CAA MasterCard credit card biodegradable?
Felipe Papaleo: "The Bridgewater Bank CAA Dual Interface Biodegradable EMV card uses a 99 percent PVC product that biodegrades in 9 months to 5 years in soil, water, compost, or wherever microorganisms are present."
CreditCards.com: What challenges did you face creating the card?
Papaleo: "The main challenge came from the manufacturing of the card itself, where our team had to work with multiple suppliers to ensure a reliable product that was approved by the stringent requirements of the Card Associations. In working closely with MasterCard, with our core supplier for BioPVC, our technology supplier for the chips and inlays and our R&D team, CPI, we've introduced a product that is compliant with all security specifications commanded by EMV standards, offers the benefits of contactless speed-of-transaction and caters to the environmentally conscious consumer in Canada."
CreditCards.com: Are Canadians ready for an eco-friendly credit card and, if so, why?
Papaleo: Canadian society is among the most green-conscious in the world and is not only ready but also in a way expecting solutions such as environmentally friendly products. The card industry has been a target of environmental activists and associations in the past years for its use of traditional PVC in the manufacturing of cards, claiming that its disposal may ultimately poison the environment. CPI's biodegradable card meets the compliance required by financial intuitions and card associations while being friendly to the environment.
CreditCards.com: What other special features does the CAA MasterCard include?
Papaleo: The BridgewaterBank CAA MasterCard is the first of its kind to combine the dual-interface technology (where a card has contact and contactless chip capabilities) compliant with EMV standards and an environmentally friendly material in a fully commercialized and market-ready product.
See related: The Origins of the Credit Card; Expert Q&A: How to turn your trash into cash
Published July 21, 2011
Most recent Product Features Stories