Police crack down on 'credit card knives'
"As seen on TV" gimmicks often claim to make your life "easier" in areas you didn't know needed to be easier (do you really need a special egg cooker when your cupboard is full of perfectly fine pans?). But sometimes, a product catches on, as with the Micro Knife, a pocketknife that discreetly folds into the exact size and shape of a credit card. However, unlike most of these usually laughable gimmicks, the Micro Knife can land you in hot water.
The Micro Knife, along with its twin, the CardSharp 2, has a 2.5-inch surgical steel blade concealed between two plastic pieces that fold out to become a handle. However, as Steve Curnew, media relations officer for the Royal Newfoundland Constabulary (RNC) said in a statement: "Credit card knives are considered concealed weapons because they don't look like a knife."
His need to inform the public about credit card knives came in June 2015 when the RNC was tipped off that members of the National Weapons Enforcement Support Team (NWEST) were selling these knives online.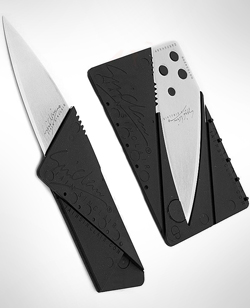 "The NWEST did some research and found a number of people
posting and selling these credit card knives through online
classifieds," Curnew says. "Under Section 84 of the Criminal Code of Canada, 'Any device having a length of under 30 centimetres and resembling an innocuous object that's designed to conceal a knife or
a blade is considered a prohibited weapon in Canada.'"
"If you were to be stopped for some reason and this object would
come to the notice of a police officer during their search of you, then you can be charged with carrying a concealed weapon," Curnew says.
That charge carries an indictable penalty of up to five years in prison
or a summary penalty of six months in jail and a $5,000 fine.
Eradication proving difficult
The RNC had seized close to 100 credit card knives when it discovered a local novelty and gifts chain retailer, Showcase, was selling them as part of its "As Seen on TV" line of products. Showcase quickly responded to a notification from the RNC.
"We have carried this product for a short time and were not aware of any issue until we were informed by the Royal Newfoundland Constabulary that it could be improperly used as a concealed weapon," says Samir Kulkarni, Showcase's CEO. "After understanding their concerns, we are removing this product from sale across Canada."
But credit card knives are still being widely sold through infomercials and online retailers such as Think Geek, Vat19.com and Amazon, so they're still widely available to the Canadian market. Though, for its part, Iain Sinclair Designs -- the UK-based creator of the CardSharp 2 -- states the following on the legal section of its website:
"The Cardsharp is not to be sold to anyone under the age of 18 years ... It is your responsibility as a buyer to check your local and national laws regarding the legal purchase, ownership and/or importation of knives. In the unlikely event of you ordering from us and the order being seized by customs officials (or other bodies such as Government, Police, etc.), the buyer assumes all risk and liability."
However, Canadian authorities aren't backing down in their attempts to rid the country of the knives.
"We've been in contact with Canadian Border Services here in [Newfoundland] and they've been in contact with other provinces through their forces across Canada, which we hope will lead to more information getting out across Canada," says Curnew, revealing that the knife has been confiscated at Canadian airports and courthouses. "... Because it can be so easily concealed and taken into protected areas, such as a courtroom or an airport, ... it's crucial to have those areas protected."
"Anyone who does have one of these credit card knives, we certainly encourage them to turn it in to their local police," Curnew says. "Or they can call and we will pick them up -- no questions asked."
One more reason to turn them in: quite apart from any legal repercussions, some knife experts say the quality of the knife isn't worth the risk, anyway.
"If you desperately need something with a cutting edge, then obviously you can use that knife, but because it folds together, it's not a particularly strong mechanism and its applications are quite limited," says Joshua Heaton, a knife sharpening and sales employee from London's Japanese Knife Company. Japanese Knife Company's owner, Jay Patel, did a demonstration of the CardSharp 2 for Iain Sinclair Designs.
Updated July 28, 2015
Most recent All credit card news Stories