Prepaid cards gain traction in Canada
Prepaid cards, which have been a big hit in the U.S., have traditionally been less popular in Canada. But as people are seeing the benefits of prepaid cards, the Canadian market is growing. As with any financial product, the cards come with some risks, but it seems that, for many, they are outweighed by the benefits
Four out of five of Canada's major banks have a prepaid card in their repertoire: Bank of Montreal, Scotiabank, CIBC and Royal Bank of Canada (RBC). All but one of them -- CIBC -- along with American Express and MasterCard belong to the Canadian Prepaid Providers Organization (CPPO). The CPPO is a non-profit created to raise awareness and educate businesses and consumers on the potential of open loop prepaid cards; that is, reloadable cards with no maximum limit.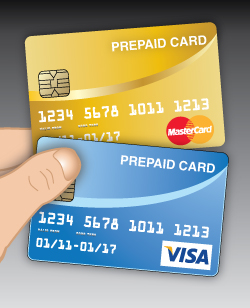 Prepaid cards thrive in the U.S., whose ranks of unbanked and underbanked people are nearly double the size of Canada's whole population. Underbanked is defined as lacking a full range of basic financial services. According to 2014 figures from the Federal Deposit Insurance Corporation (FDIC), about 16.7 million U.S. adults are unbanked, and 50.9 million are underbanked, totalling 67.6 million people.
Many of the unbanked or underbanked in the U.S. lack basic chequing accounts because they do not live near bank branches, do not trust traditional financial institutions or are not courted by banks, which prefer to sign up customers who can pay for more expensive services. So, Americans store money on prepaid cards in addition to, or instead of, a bank account.
In Canada, if you have proper identification, a bank must give you a bank account, says David Eason, chairman of the CPPO and Berkeley Payment Solutions -- an organization that sets up Visa prepaid cards for corporations. But the abundant use of prepaid cards in the States has exposed Canadian banks to its many different uses.
Versatility draws in consumers
Consumers are interested in prepaid cards because they offer many features and benefits, says Brian McCabe, vice-president of core deposits and payments at Scotiabank. For instance, with prepaid cards, you can put a tighter control on spending. The money is already loaded onto the card, so there is no fear of spending more than what you have.
"What we are seeing is people with a fixed amount for discretionary income," says McCabe. They're taking that amount and their putting it on their prepaid card and that's their spending money, so it's a great way to budget."
Other popular uses include parents using the cards to send money to children away at college or university, people using them as a more secure way to carry money when travelling, and companies giving them as rewards to customers and employees. Provincial governments also are managing their disbursement amounts by giving them out on prepaid cards instead of cheques. All forecasts say the prepaid market is only going to grow from here.
Though one major concern is the fees associated with prepaid cards, McCabe says the fees on Scotiabank's prepaid cards won't break the bank.
"The card costs $10.00 and then there's a $10.00 annual fee as well," says McCabe. "You see some different approaches in the marketplace where some issuers will charge a fee to reload the card, but all Scotiabank's prepaid products are free of charge to load."
Credit card-like features appeal to the credit shy
For many, the greatest aspect of these cards is the ability to use them wherever credit cards are accepted without racking up any credit card debt in the process.
"It's definitely for people who don't have experience with credit or who have bad experiences with credit in the past because they used too much of it," says Berkeley Payment Solutions' Eason. "This is a great product because you can't get into trouble ... you can use it just like any major credit card, but you'll never get into debt and you'll never have the really costly interest charges that are associated with credit cards."
There's a large audience to whom that appeals, he says. In fact, banks have noticed millennials foregoing credit cards altogether in favour of prepaid cards.
"I think they've seen the hardships debt has created for their parents and they don't want anything to do with that, so there's 20- to 22-year-olds who are of the age to qualify for credit, but are actually opting for prepaid cards, so they can have the proper budgeting experience," says Eason.
As an added bonus, many prepaid cards enjoy the same protections as credit cards, such as zero liability for fraudulent activity on the card. "Our cards are issued under the Visa network, so those cards are protected by Visa's zero liability coverage, which would be similar to what you'd see with a credit card," says McCabe.
Good thing too, since recent reports indicate that scammers prefer prepaid cards as a method of payment when they're conning unsuspecting victims, because the cards are supposedly untraceable. But Eason says even that isn't always the case.
"When you get a gift card below a certain denomination ... you don't have to register the card," he says. "But once you get above a certain threshold -- usually $200 [though it depends on the issuer] -- you do need to register your name to it. Plus, if you keep a record of what the card number is, your institution can see where the transactions are happening."
Prepaid cards likely here to stay
With the convenience, protection and versatility these cards now offer, it seems nothing can stop prepaid cards from becoming even more popular in Canada.
"The products are in their infancy, so there's a lot of room for growth and they will grow," says Eason. "The banks are so big in Canada that as prepaid becomes more prevalent in a particular product group strategy, you will start to see banks make bank-wide or enterprise-wide offerings."
In fact, Scotiabank is already exploring how to integrate prepaid into their existing banking technology.
"We have a mobile wallet in market today and it doesn't have our suite of prepaid cards on it yet, but it's on the road map to do in the very near future and I absolutely believe that prepaid [will succeed there]," says McCabe.
See related: New prepaid cards woo bank customers, New prepaid card regulations short on consumer protections, say advocates
Updated August 4, 2015
Most recent Prepaid / Secure / Debit Cards Stories