A new way to process credit cards -- with your Blackberry
A new smartphone app is letting Canadian businesses and individuals process credit cards via a Blackberry device for the very first time.
Payfirma's new Blackberry mobile payment app, which is compatible with most versions of the Blackberry device, lets Payfirma merchant account holders accept major credit cards, authorize and process transactions in real-time and deliver e-receipts right into customers' inboxes. Here, Payfirma's CEO, Michael Gokturk, offers insight into the perks of pay-as-you-go, mobile security and why it's easier to build an app for the iPhone.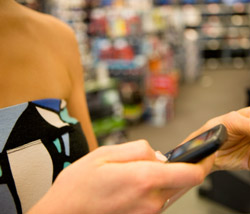 CreditCards.com: How does Payfirma's Blackberry Mobile Payment App benefit Canadian consumers?
Gokturk: Rather than carrying around multiple credit cards, Payfirma's mobile app allows consumers to load their phone and use their phone at any "PayPass" or "Paywave" (NFC)-enabled point of sale terminal.
CreditCards.com: What steps has Payfirma taken to ensure secure transactions?
Gokturk: Payfirma is bound by PCI (payment card industry) regulations as well as those standards set by Visa, MasterCard and financial regulators. We adhere and go above standards to ensure all transactions are encrypted at the swipe point. No data is ever stored on the phone or device, and all data is transmitted securely to an encrypted payment gateway. All transactions are always monitored 24/7 for potential fraud, skimming and illicit usage.
CreditCards.com: How does demand for the Blackberry app compare to demand for the iPhone app?
Gokturk: Our iPhone app went viral within a day of being released whereas demand for the Blackberry app was strong, but not as strong as for the iPhone. We believe this is due to the fact that more independent business owners and small businesses own an iPhone or iPad over Blackberry, and that Blackberry users are not as likely to download and demo applications.
CreditCards.com: How do the two apps differ in functionality?
Gokturk: The iPhone app allows touch screen functionality and signing the customer's signature on the device directly whereas Blackberry does not (yet).
CreditCards.com: There are dozens of iPhone mobile payment apps on the market. What are some of the challenges of creating a Blackberry-compatible app?
Gokturk: There are dozens, but none that offer the simplicity and functionality of Payfirma's app. We waited to see the best of breeds out there and which apps merchants favored and why. We waited patiently for our competitors to make mistakes in security and functionality, then we ensured our app was the best -- and above all -- free for anyone to use with a Payfirma merchant account.
At the same time, getting the same functionality out of Blackberry was somewhat cumbersome and some of the device's locked features didn't allow us to take the app as far as we'd like; but the next version of Blackberry will allow us to achieve the best possible innovative product.
See related:
Visa Canada's digital wallet vs. the world
;
Mobile banking poised to skyrocket in Canada
Updated May 16, 2017
Most recent Product Features Stories