Pros, cons of paying for city services with credit
If you live in a city, chances are you can use credit cards to charge a wide range of municipal services, including parking, recreation programs, transit fares, pet licenses and birth or marriage registrations (but not your property taxes).
Using your credit card for such expenses allows you to make timely, convenient payments that are easy to track via your monthly statement. The progression toward all-plastic payments also allows cities to make technological changes. But some worry that using a credit card for such purposes may encourage consumer debt, or even cause cities to shell out more for processing fees and less for city improvements.
Advantages of using credit for city payments
According to Todd Burge, branch manager of client financial services for the city of Edmonton, one big plus of credit cards is that they allow residents to pay a high volume of low-dollar transactions, and then efficiently track payments on their monthly statements.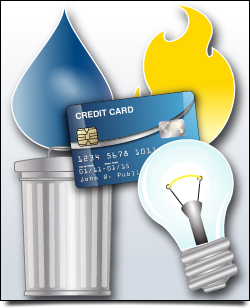 City of Calgary spokesperson Jill Gaume provided a breakdown of the most popular city services that Calgarians charge on their credit cards:
Calgary Parking Authority
Transit
Recreation services
Animal licensing
Waste recycling
Development planning and building [permits]
Gaume says the city of Calgary has expanded its eGovernment service, which allows user registration for a growing number of services on its Calgary.ca website. This saves residents from having to travel to city hall and wait in line before paying, and enhances accessibility to available public services.
"Online credit card transactions have increased by 72 per cent from 2010 to 2013," she says.
Use of credit cards has also led to technological city improvements. Burge says Edmonton recently completed a pilot project to switch coin parking meters over to credit card payment meters.
Potential risks and downfalls
Burge says high-profile data breaches like those at Target and Home Depot represent the greatest factor scaring some residents away from using their credit cards to pay for city services.
But Burge says the city of Edmonton is carefully monitoring media reports about data theft and is storing credit card information in a secure environment compliant with Payment Card Industry (PCI) standards.
"We work hard every year to make sure we remain current with our compliance around PCI standards to protect client's card information," asserts Burge.
Gaume notes that the city of Calgary was the first Level 2 municipality across Canada to receive certification of compliance with Payment Card Industry Data Security Standards (PCI DSS) verified by an external security assessor. PCI DSS certification is the highest security standard for handling and storing sensitive cardholder data.
Another debatable negative is that paying for city services by credit card encourages consumer debt. According to BMO's 2014 debt report, Albertans lead the nation with the highest average household debt at $124,838 -- over 60 per cent more than the national average. Half of Alberta's household debt is unpaid credit card balances.
Nevertheless, Burge and Gaume report they are unaware of any complaints that would indicate credit card payments for city services are driving consumer debt in their respective cities.
Still, there is at least one down side for cities in accepting credit card payments: the cities must pay processing fees.
According to Freedom of Information requests obtained by the Canadian Federation of Independent Business (CFIB) and forwarded to Canada.CreditCards.com, the city of Calgary shelled out $2.6 million for credit card processing fees in 2013 while the city of Edmonton paid $2.2 million. That's money that can't go toward other issues, such as city improvements.
Such processing fees also explain why you can't make high payments, such as property taxes, with a credit card.
"I can't imagine us even considering allowing direct payment of property taxes by credit card," says Burge. He explains that city of Edmonton property taxes involve over a billion dollars in annual revenue, and would therefore demand a horrendous amount of processing fees.
Edmonton joins Calgary and Toronto in this decision. According to Jackie DeSouza, city of Toronto spokesperson, accepting larger credit card transactions, such as property tax payments, would result in high costs to the city, which would then be passed on to all taxpayers via higher taxes.
See related: Why we pay card fees -- and how to avoid them; Paying rent with credit card? Tempting, but risky
Published September 11, 2014
Most recent All credit card news Stories