How to protect your credit and finances when moving
Moving is always hectic: you're trying to find a new place, then living out of boxes while dealing with changes to your work commute, your children's schools and everything else that comes with a new neighborhood or city. Because of everything else involved in moving, it's easy to overlook the care and keeping of your credit and finances. Without the proper foresight, you could be putting your financial security at risk.
Moving doesn't really have an effect on your credit unless you're unorganized, Jeanne Kelly, a self-employed credit coach and public speaker, said in an emailed response to questions. Here are some steps you can take before, during and after a move to make sure your information is secure and your accounts are in good standing.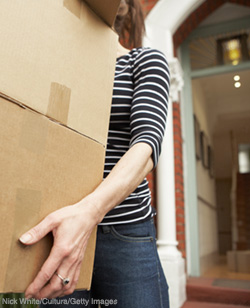 Before you move
Before you start packing, you'll have to find a new place, and your credit plays a huge role in where you'll end up living and how much you'll pay. Whether you're moving to a rental or trying to buy a house, chances are someone is running a credit check on you.
Renters may find themselves filling out several rental application forms, all of which will ask for personal information and result in a credit check. Be conscientious of distributing so much personal information and remember to diligently check your credit report for fraud.
Homebuyers will also have their credit reports pulled. Nelson Smith, a loan officer with alternative lender Drumheller Financial Services, recommends visiting a mortgage broker to get a variety of rates and terms from different lenders. Not only will this save you time, but it also limits the number of people to whom you give your personal information and saves you from having each lender perform a hard pull on your credit.
A few months before moving, you should start aiming to lower your utilization rate, which is the amount of credit you're using versus the total available to you. As a rule of thumb, this rate should be as low as possible for an optimal credit score. Potential renters or sellers will want to see a great score, which indicates a trustworthy consumer.
If you have one card on which you're using a good chunk of your credit limit, J.R. Duren, credit expert at HighYa, a company that helps customers avoid scams and deception, suggests applying for a credit card with a 0-per cent interest balance transfer offer, then moving money from high-balance cards to that new card. That way, you avoid using too much credit on any one card, he said in an emailed response to questions.
You should also try to avoid making a huge purchase or opening up too many new cards in the months leading up to your move.
When moving day arrives
You've found a place to live and it's time to pack up and go. While packing boxes, identify which items are too important to fall into the wrong hands. Social insurance cards, credit cards, old passports, tax returns and any other documents that contain personal information should be separated from the other moving boxes and transported to your new abode personally.
A few days before moving day, contact the post office to have your mail forwarded to your new address. The service costs a few dollars a month but becomes invaluable if you've forgotten to contact a service provider or creditor. At the same time, remember to switch over your utilities, cable and internet to your new address. All of these steps are an invaluable help to prevent identity thieves.
Additionally, you may want to set up an automatic payment for credit cards and other bills. Whether you get caught up in setting up your new place or get left without internet to pay bills for a week or two, it's easy to miss a payment during a transition. You can always cancel the automatic payments next month and go back to whatever system works best for you.
Once you're settled in
Although you might think you're good to go once you've settled into the new place and unpacked the boxes, you will still have some credit-damaging pitfalls to avoid.
Moving often inspires people to open a new credit card or two. For instance, you may suddenly find a credit card to a home improvement store to be handy, or you may need to furnish your new place, and the furniture store might offer a discount if you open a card with them.
Be careful about opening too many cards, especially if you already opened a balance transfer card, then had several credit checks run during the moving process. Open cards that offer benefits such as a 0-per cent interest period. And have a plan to pay them off as soon as you can - you don't want your new lawnmower to still be costing you a year from now. Store cards can have much higher APRs than regular credit cards, so be sure to research your options before applying.
Finally, order a copy of your credit report once you've settled in. With landlords and mortgage brokers having your personal information, plus the potential for old bills to have been sent to the wrong address, the months before and after your move are a risky time for your finances and credit. Check your credit report for anything out of place, such as an account you did not open, or payments past due. Noticing it right away is better than getting a phone call from a collection agency six months later or realizing you've been a victim of identity theft long after the worst has happened.
See related:
Moving abroad? Tie up loose credit, debt ends
,
Rebuild Canadian credit after living abroad
Published June 13, 2016
Most recent All credit card news Stories