Tips for finding the right hotel rewards card
Not all hotel rewards cards are created equal. While many offer perks such as a free night's stay or a complimentary breakfast, others allow you to upgrade your reservations or convert your points to other loyalty programs. Selecting the best card is as much about recognizing your hotel travel preferences as it is about understanding a program's limitations such as expiration dates and qualified room rates.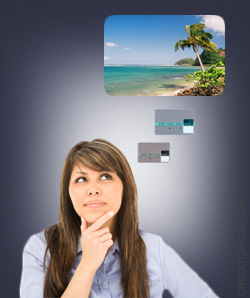 Tim Winship, publisher of FrequentFlier.com, an online guide to frequent flyer programs, and co-author of "Mileage Pro: The Insider's Guide to Frequent Flyer Programs," has worked in the travel industry for more than 20 years. Winship offered us these tips for getting the most out of today's hotel rewards cards.
What are some of the most common perks consumers can expect to gain from hotel rewards cards?
Winship: For infrequent travelers, the most common benefits associated with hotel loyalty programs are points that can be redeemed for free nights, or airline miles that can be redeemed for free flights. For those who travel more frequently -- at least 10 nights a year -- hotel programs' elite benefits include bonus points, early check-in and late check-out, free Internet access, and upgrades.
What are some of the most cost-effective ways consumers can boost their ability to earn points?
Winship: Choose a program that works for you, and log as many of your stays at affiliated hotels as possible. It's difficult to earn awards if your points are scattered across multiple programs so sign up for the credit card linked to your primary program. Keep abreast of promotions that offer the opportunity to double or triple your earnings.
Do some hotel chains offer bigger bang for your points than others?
Winship: All hotel chains have their strengths and weaknesses. The "biggest bang" will be had with the program that best fits your individual travel and consumption habits.
Should you sign up for a rewards card at every hotel you visit?
Since there's no cost to join a hotel program, there's no financial downside to signing up for multiple programs. But long term, the most benefits accrue to those who focus their activity on a single program, or a few programs at most. They will earn the most free nights and benefits associated with elite status.
How important is location when selecting a hotel rewards card?
Winship: It's critical to choose a program linked to a hotel chain with hotels in the locations you travel to most often. Or, to put it differently, if there's no Hilton in the town you're visiting, the Hilton HHonors program will do you little good, no matter how good its features and benefits look on paper.
What is the No. 1 determining factor for deciding whether to sign up for a rewards card?
Winship: First and foremost, a hotel program has to reward you for staying at hotels where you want to stay, given your budget and travel patterns. So at a minimum, the program must include hotels at your desired price points, and in locations where you're likely to stay. Accordingly, the largest chains -- with brands at different price points and thousands of properties worldwide -- are often the most rewarding from a frequent-stay standpoint.
Can owning a hotel rewards card backfire financially?
Winship: Again, there's no direct financial impact from joining a program. One caveat, however: Don't overpay to stay at a hotel just because it's affiliated with your preferred program.
Published December 30, 2010
Most recent Reward Programs / Cash Back Cards Stories