Return fraud outpaces other card crimes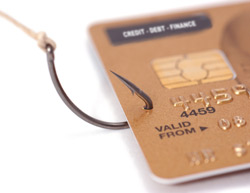 Return fraud, dubbed "the biggest crime you never heard of," is the most common caper pulled against retailers, accounting for more instances of fraud than credit card and counterfeit cash schemes combined, according to a report released by Statistics Canada.
Return fraud involves bringing stolen merchandise back to a store under the guise that it was purchased to obtain a refund or store credit. The government's survey of retailers indicates these scams make up 33 per cent of all fraudulent activities while more well-known schemes like credit card and counterfeit money scams each only account for 15 per cent of all crimes.
In addition to collecting money by returning stolen goods, fraudsters also bank by bringing back goods purchased with counterfeit money or by using bogus receipts to return used items.
"These types of crimes are more often than not perpetrated by organized crime groups who are also active in other criminal activities," said Mark Beazley, a spokesman for the Retail Council of Canada, to Canwest News Service. "Of course there are some opportunists out there, but for the most part, fraud scams involve sophisticated networks of career criminals."
According to a Retail Council of Canada survey, 72 per cent of retailers fell victim to a return fraud scam during the past year. Criminals often target stores with lax return policies, which has spurred retailers to begin beefing up return requirements. Some stores are only accepting returns with proof of purchase or restricting return authorization to senior staff members.
"It's important to keep in mind that retailers have to strike a fine balance between good customer service and fraud prevention when drafting their return policies," Beazley told Canwest News Service. "They don't want to cause frustration for customers with legitimate returns."
Return fraud isn't unique to Canada. The National Retail Federation in United States predicts a $9.6 billion loss this year alone because of return scams, hence earning return fraud the title in several U.S. news reports as the "the biggest crime you've never heard of."
Published December 15, 2009
Most recent Legal, regulatory, privacy Stories