Reverse mortgages for seniors can work -- for some
You've retired, and your income has stalled, but your mortgage, credit card payments and everyday expenses keep piling up. Seniors who are cash-strapped and ridden with debt may turn to a reverse mortgage, but is it a sound financial decision? In some cases, maybe -- but be absolutely sure of what you're signing up for.
What is a reverse mortgage?
A reverse mortgage allows Canadian seniors to pull the equity out of their homes so they can use the cash to pay off debt, maintain their lifestyle or even fulfill their other goals, according to Yvonne Ziomecki. She is the senior vice president of HomEquity Bank, the only company in Canada that grants reverse mortgages in a product called the Canadian Home Income Plan (CHIP).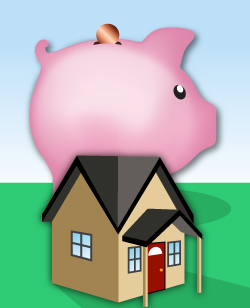 Ziomecki says HomEquity works exclusively with seniors aged 55
and older; all members on the home's title must meet the age
requirement. Homeowners can use up to 55 per cent of the value of their home, but the amount is determined by age and life expectancy.
"The older you are, the more you get," Ziomecki says. Clients don't have to make a payment on their loan until they're ready to sell or
they die. HomEquity guarantees clients will never owe more than the
market value of their homes.
"The average age of a person who comes to us is ... late 60s and early 70s," she says. "A huge worry for them is to make sure something is left and they don't burn their children, should the market crash."
Ziomecki says there are four distinct groups of seniors who often rely on CHIP:
Those who have debt in retirement and are having difficulty making payments to creditors and on their mortgage;
Those who are looking to improve their lifestyle by using the cash to buy a vacation home;
Those who need the income to maintain their lifestyle;
Those who use CHIP to cover unexpected family expenses.
How CHIP can land you in trouble
Danielle Park, president and portfolio manager at Venable Park Investment Counsel, worries seniors may not fully understand what they're signing up for with CHIP. The advertising -- images of grey-haired Canadians happily relaxing or celebrating -- preys on their weaknesses, she suggests.
"The truth about it is [it encourages you] to stay in a place or do things you can't afford," she says. "You're spending two times what you get for a five-year mortgage. It's [based] on the premise that real estate goes up in value but it could flat line. I can envision people [selling] their house and [realizing] their 'magic solution' has made things worse. Don't use equity to fund a lifestyle you can't afford."
Annie Kvick, a Vancouver-based certified financial planner, says seniors aren't capitalizing on their biggest asset when they take equity out of their mortgage.
"A reverse mortgage means you're not paying it off like a normal mortgage," she says. "The interest you're paying and the equity you're taking is increasing; it's never paid off. We only realize 10 years later that it wasn't [a good idea] and it's snowballing because of compounding interest and high interest rates," she says.
Ziomecki argues that, though interest rates for CHIP are indeed higher than conventional mortgage rates (4.99 per cent for the former, 2 to 3 per cent for the latter), a reverse mortgage isn't the same as a traditional mortgage. For starters, seniors don't have to make a single payment on their loan until they're ready to sell. She also says to compare CHIP's interest rates with that of credit cards and private lenders, whose rates could be as high as 20 per cent. Finally, she says some who use CHIP, such as those wanting to purchase a new vacation home, see the equity as a means to build a new asset and aren't concerned with the interest rate.
However, CHIP comes with other fees, too, such as an appraisal fee, which costs about $300. It's usually an upfront fee, but clients can use the proceeds of their loan to cover this expense. Fees for setting up the reverse mortgage range from $500 to $1,500 depending on the terms. Finally, HomEquity requires each client to seek out independent legal advice, which could cost about another $500.
Park says seniors are better off selling their home while it's fetching a great price, using the proceeds to pay off debts and buying a smaller home, though Ziomecki says downsizing comes with its own costs, such as moving trucks, cleanup and legal fees.
Ultimately, Kvick says CHIP may be suitable for some seniors -- as long as they do their homework and have a concrete plan for their equity. Visit a financial planner or money coach who provides unbiased advice, she says.
"They really need to know the purpose and the risk," Ziomecki concedes. "If we don't understand that, we might take out too much without a clear plan.
See related:
5 smart financial moves for low-income seniors
,
Should you downsize your home if you're in debt?
Published July 10, 2015
Most recent All credit card news Stories