How to save on foreign transaction fees
When you take a trip out of the country, your costs are already higher than usual: you're eating out, shopping, taking tours and staying in hotels. But if you're using your credit card to fund the fun, as many Canadians do, you're also racking up the foreign transaction -- or foreign exchange - fees.
The majority of Canadian credit cards tack on a fee of 2.5 per cent of the transaction amount when you're using plastic outside of Canada. That includes if you're using your card to make an online purchase from a retailer located outside the country, too.
"Foreign exchange fees are fees charged by credit cards when making purchases in another currency ... a lot of people don't know about them," says Matt Bailey, a seasoned traveller and founder of CanadianFreeFlyers.com. "I didn't know for years, and it really adds up."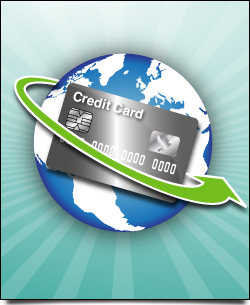 However, there are some ways to spend in the U.S. or abroad, without the extra fees.
1. Use a card with no foreign exchange fees.
There is a small group of Canadian credit cards available that do not charge foreign exchange fees:
Amazon.ca Rewards Visa
Marriott Rewards Premier Visa
Rogers Platinum MasterCard
The Marriott card and the Rogers card both have annual fees ($120 and $29, respectively), but both are waived in the first year. The Amazon card comes with no annual fee, plus a $20 credit loaded onto your Amazon.ca shopping account.
The Rogers card comes with a welcome bonus of $35 in cash back, plus 1.75 per cent cashback on all purchases. The Marriott card is better for travellers, earning 5 points per $1 spent at Marriott locations, 2 points per $1 spent on airline tickets, car rentals and restaurants and 1 point per $1 spent on anything else. Additionally, you get a free hotel stay on your anniversary.
Another tip: Always choose to pay in the foreign currency when you're prompted at the point of sale in a shop. Your credit card issuer tends to give the better exchange rate than most merchants.
2. Try a U.S. dollar credit card.
If you do a lot of cross border shopping or tend to shop on U.S. websites, a U.S. dollar credit card may be worthwhile.
"Using cash is one of the best ways to stick to your budget," RBC wrote in a news release accompanying its 2016 poll on foreign exchange habits. "But a U.S.-based credit card is a smart option to avoid foreign transaction fees on bigger purchases."
The trouble is finding a U.S. credit card available to Canadians. To open a U.S.-based credit card, you'll need a U.S. Social Security number, Bailey says. Your best bet is to open a U.S. credit card tied to your Canadian bank.
The BMO U.S. Dollar MasterCard, for example, comes with a $35 annual fee that you could get waived for a year if you spend US$1,000 in the year, while TD Canada Trust's U.S. dollar Visa comes with a $39 fee, and Scotiabank offers a U.S. dollar card with a $35 annual fee. All fees are in U.S. dollars.
Canadians are slated to spend $20.5 billion in the U.S. in 2016, according to a TD Bank report. If you're relying on plastic a lot in the U.S., an American dollar credit card could be a sound investment.
3. Go cardless and use cash only.
You can ditch plastic altogether and opt for cash when you're travelling, too. Carrying cash is always a good idea anyway, as some countries may not accept credit cards.
Bailey advises Canadians to download the XE.com app when travelling, which shows you live exchange rates. "Then when you go to a money exchanger, you'll know more or less what you should get," he says.
If you're withdrawing cash from ATMs abroad, remember that you'll face charges from the banking institution in your destination country and from your Canadian bank, Bailey says. You can try to avoid Canadian charges by choosing a chequing account that allows a certain number of withdrawals from foreign ATMs.
See related:
Is your credit card trip insurance enough?
,
Is it wise to shop in the U.S. to earn more rewards with weak dollar?
,
5 credit card perks you might not know you have
Published July 12, 2016
Most recent All credit card news Stories