7 secrets about credit card travel accident insurance
It sounds like a dream - free insurance that comes with the credit card you already have. However, credit card travel accident insurance isn't as straight-forward are you may believe. Here are some tips for using your card's travel accident insurance so you aren't caught out if an accident does happen while you're away from home.
1. You're covered automatically - if you paid with that card
Credit card travel accident insurance varies between cards, but the one thing that remains constant is coverage for the cardholder without a separate application. The only catch, says Mark Hiss, editorial manager of World Nomads, is the trip must have been paid for with that credit card. You can't file a claim with your American Express card if you've paid for your flight using your debit card or your Visa.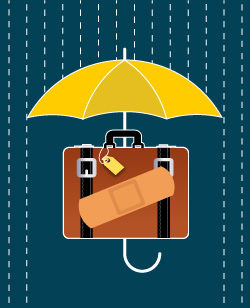 2. Your dependents might be eligible
Parents, you're in luck: many credit card travel accident insurance policies cover dependent children. The definition of "child" differs by card, with some only including children younger than 21 and others including children up to 26 if that child is still a full-time student. Children traveling without the cardholder are sometimes covered as well.
3. You could receive a lot ... or a little
Depending on the card and the injury, you could receive either a large or small sum of money. For cardholders with high insurance limits, accidental death or dismemberment could pay out $500,000 or more.
Cards with lower insurance limits might only pay out up to $100,000 to $200,000. Check your card's terms and conditions to see how much you're covered for.
4. You don't need a premium card
Banks often advertise that their premium, high-annual fee credit cards have travel accident insurance, but it doesn't mean their more commonplace credit cards don't offer similar insurance. While the coverage could be less or have more exclusions, even credit cards with no annual fee can come with free travel accident insurance coverage.
5. You might be covered for domestic trips
Universal health insurance offered to Canadian residents is independently administered by the provincial governments. Unfortunately, that means provincial insurance coverage doesn't transfer when a resident from one province is visiting another.
However, some cards provide out-of-province emergency travel medical insurance for the cardholder, a spouse and dependent children.
6. You'll find the claims process simple
Insurance providers will work with you through the claims process. With credit card insurance, calling the phone number on the back of the card will connect you to a customer service person who can direct you to the right department.
Once you've gathered all the required paperwork, such as police report(s) and photos, valid transportation tickets and proof of death or injury, you'll need to fill out a claims form and submit it to the insurance company for reimbursement. Depending on the amount or the nature of the claim, the insurance company may request additional information, including visits to a doctor of their choosing.
7. You might need supplemental coverage
With coverage inconsistent among the different credit cards, it's important to verify your credit card covers the activities you plan to do on vacation. A couple heading to a Mexican resort for a week will have vastly different insurance needs than a family going on a ski trip.
In some instances, it may be wise to get supplemental coverage, above and beyond what your credit card travel accident insurance provides, says Hiss.
Supplemental insurance can be purchased a few ways. RBC, for example, will allow cardholders to either top-up existing credit card insurance online or by calling the call centre. By visiting an insurance broker or calling an insurance provider, cardholders can purchase additional travel insurance. As with all insurance matters, it's better to be over-insured than under-insured.
Always read the fine print
Medical facilities around the world vary tremendously, as do their costs. The fine print of your credit card travel accident insurance booklet may require you to call before, or soon after you seek treatment, otherwise coverage limits could apply.
It's best to review your credit card's insurance coverage before you board the plane. If an accident happens, you want to be able to focus your attention solely on that, not on the 35-page booklet that you're trying to read online while in a different city or country. Read up, pack up and enjoy your vacation knowing you're covered if something happens.
See related:
What to look for in a credit card travel health insurance plan
,
Is your credit card trip insurance enough?
Published July 15, 2016
Most recent All credit card news Stories