Senate scandal: Credit cards are smoking guns
Credit card records played a key role in professional services firm Deloitte's independent forensic examinations of expense claims made by Sens. Patrick Brazeau, Mike Duffy and Pamela Wallin.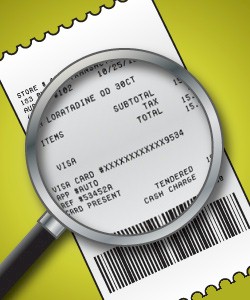 Deloitte's reports led the investigating Senate Standing Committee to conclude that, due to his false primary residence declaration, Brazeau must repay $48,745 in illegitimate charges. Duffy and Wallin have already reimbursed the Receiver General $90,172 and $138,969 respectively for questionable expense claims.
Neither repayment nor suspension will end the senators' troubles if authorities can prove intent to deceive. The RCMP has filed court documents asking for comprehensive evidence from the Senate, including all credit card billing statements. The Mounties' findings will enable the Crown public prosecutor to decide whether or not criminal charges should be filed against the embattled senators.
Senators claimed to be in one place, were actually in another
Credit cards play an important role in the Deloitte and RCMP investigations because card transactions provide an electronic audit trail showing where cardholders are when their purchases are processed. Senate communications officer Annie Joannette says credit cards used for Senate-related charges are restricted to the cardholder.
In contrast, Deloitte's report on Sen. Brazeau states Brazeau confirmed someone else used his cell phone "for a minimal number of transactions." This makes cell phone records potentially less reliable than credit card statements for tracing the senator's whereabouts.
Credit card billing records can also help prove whether or not the senators' primary residence is in the province or territory they represent, as required by Canada's Constitution. Citing credit cards as supporting documentation, the Deloitte report found that Brazeau spent just 57 of 549 days from April 2011 to September 2012 at his declared primary residence in Maniwaki, Quebec, where his father owns a home. Maniwaki is about 135 kilometers from Ottawa, which would make Brazeau eligible for special allowances on the house he rents in Gatineau, Quebec. Gatineau is a 20-minute drive from the nation's capital.
Deloitte's report on Sen. Duffy estimated that he was in Ottawa for 296 of 549 days, and only at his declared primary residence in Prince Edward Island 164 days. In addition to housing allowance fraud, the RCMP's court filing against Sen. Mike Duffy accuses him of claiming illegitimate daily living expenses for Senate-related business in Ottawa when he wasn't even there. In one incident, Duffy was campaigning in Yellowknife, in another, he was in Florida for 17 days, yet claimed a $1,050.60 allowance for working in Ottawa during that same period. Credit card records can help prove where Duffy really was.
Deloitte's report on Sen. Wallin determined that she spent 298 days in Ottawa on Senate business, 368 days at her declared primary residence in Saskatchewan, and 478 days in Toronto during a 1,369-day period from January 2009 to September 2012. Credit card records also supported the Senate Standing Committee's finding that, out of 94 trips between her declared primary residency in Saskatchewan and Ottawa, Wallin made 75 stopovers lasting one or more nights in Toronto, where she owns a condo.
Statements help identify expenses
Joannette says credit cards must be used only to make authorized Senate-related purchases, and not for personal purposes. Senators can use credit card statements as a proof of payment when first submitting expense claims for reimbursement, although additional documentation may be required for audit purposes.
In the RCMP's court filing against Sen. Pamela Wallin, Constable Michael Johnson states: "Sen. Wallin, in addition to legitimate Senate use, uses her Toronto condo as her primary residence to attend non-Senate related board meetings and other functions outside of the scope of her Senate duties, of which she has submitted fraudulent expense claims and was subsequently reimbursed by the Senate."
Wallin did cooperate with the Deloitte investigation by providing her personal Visa credit card statements. Ironically, the Mounties plan to examine those credit card records for the type of expenses she incurred in Toronto, looking for deliberate spending on non-Senate business.
Records are totally accessible
Senate committees can order all government-issued card records and statements without the cardholder's permission.
Clearly, the Senate will be able to comply with the RCMP court filings requesting American Express statements for Brazeau from March 1, 2011 to July 1, 2013, Duffy from December 22, 2008 to June 1, 2013, and Wallin from January 2, 2009 to September 30, 2012.
Authorities can demand more records if needed. A full set of credit card statements spanning each senator's tenure can support their guilt or innocence on individual charges, and highlight any overall patterns that might indicate criminal intent.
Be on your toes, senators
It is important to note that none of the allegations against the senators have been proven in court.
But while the Mounties collect facts for possible Crown criminal cases against Brazeau, Duffy and Wallin, Canada's Auditor General is conducting "a comprehensive audit of the Senate of Canada, including Senators' expenses."
"And we have access to any information that is relevant to the conduct of the audit," adds Ghislain Desjardins, a media relations manager from the Office of the Auditor General of Canada.
No doubt those investigations will also scrutinize credit card records for potential signs of wrongdoing.
See related:
How to protect your credit card information from fraud
;
5 myths about contactless payments
Published November 20, 2013
Most recent All credit card news Stories