What seniors need to know about getting credit
Many seniors may be past the need to make big purchases, such as homes or new cars, but that doesn't mean they don't need credit. They might want to travel and reserve a hotel room, shop online or have their groceries or prescriptions delivered. All of these are difficult without a credit card.
If you're in retirement and you don't have a credit card - or have never had one - it's not too late.
Plan ahead for when you may need plastic
Some seniors take pride in never using credit, or perhaps they simply never have had a credit card in their own names.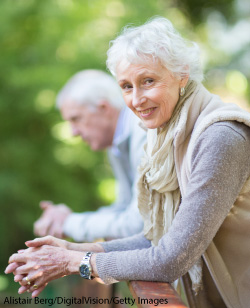 "They have a spouse who managed all the household finances, and all the loans and bills may have been in his or her name," Andrew Perez, manager, media relations and communications at the Canadian Bankers Association, said in an emailed response to questions.
However, waiting until you've retired to get credit in your own name may be a difficult.
"Each time you borrow money, you build a credit history, which is really your financial track record," Perez said. "If you have never had credit in your name or have a poor credit rating, it will be harder for you to borrow money later. The interest rate may also be higher because you have no financial track record to show the lender that you are a good credit risk and can pay the money back."
This is why Patricia White, executive director of Credit Counselling Canada, recommends everyone, even spouses, have some credit in their own name, "even if it's just a small amount or a credit card."
In addition, it's important to use that credit card at least occasionally. "Keep it active so that there is something there on the credit history," she says. "If something happens to their partner, they need to have that."
Keep in mind that establishing credit is only helpful in building your credit history if you are handling it properly.
"Seniors must be vigilant by paying all their bills on time and paying at least the minimum amount on their credit card each month," Perez said. Of course, paying the amount in full is always the goal.
Getting started
For seniors who are just beginning to build a good credit history, Perez recommends starting by requesting a copy of their credit reports. You can request a copy of your report from the Canadian credit-rating agencies Equifax and TransUnion.
"It's wise to check your credit report each year once you have credit to make sure there are no errors on your file that could compromise your creditworthiness," he adds.
Then, speak with your bank, Perez said. It can make a recommendation on the best credit product for your needs.
Perhaps start with a secured card, which often is easier to get.
"You can get a secured credit card, generally from the bank that you deal with," says White. With a secured credit card, you make a collateral deposit, which then becomes your credit limit. You make purchases on it as with a regular credit card, and your payments are reported to the credit-rating agencies.
As long as you make at least the minimum (but preferably more) on time each month on your secured card, your positive activity will eventually help you be eligible for a regular credit card.
Another option is to take out a small loan, even if you don't need it. You could even secure the loan by purchasing a GIC or other investment product through the bank. "Either product is useful," says White.
Cautions for seniors and credit
"As a general rule, seniors should never use credit they don't understand, pay bills late or exceed their credit limit," said Perez. He recommends visiting the Financial Consumer Agency of Canada (FCAC) website for more information about credit products.
In addition, "Financial abuse of seniors is on the rise with fraud, as are incidents of financial abuse from family and friends," says White.
Seniors need to be sure that if they receive phone calls from someone claiming to be their bank or card company, that they verify who the caller is. You can even tell the caller that you'll hang up and call the company back yourself to be sure you're speaking to a real representative.
Seniors also should be wary of phone calls from people claiming to be relatives in trouble who need money transferred to them immediately - a common scam targeting retirees.
"The CBA coordinates Your Money Seniors seminars, which are available to seniors' groups free of charge in communities across Canada," Perez said. "There are three modules: cash management, financial abuse and steps seniors can take to protect themselves, and financial fraud."
"Credit is a useful tool, but there's also a very serious responsibility in handling it properly," says White.
See related:
5 smart financial moves for low-income seniors
,
Why fraudsters target seniors -- and how to fight back
,
Retiring with debt
Published December 28, 2016
Most recent Card Fundamentals Stories