Is it wise to shop in the U.S. to earn more rewards with weak dollar?
The struggling loonie is making it more expensive to travel and shop in the U.S., but there may be a silver lining -- travel rewards are a bargain.
When the Canadian dollar is low, the price of international airfare goes up if the airfare is set based on U.S. dollars, and then converted to Canadian currency by a third party. The same is true for many international hotel or even cruise rates. That's not great if you're paying for your trip out of pocket, but it is if you're using frequent flier points or credit-card travel rewards to pay, says Avery Campbell, president of Awarding Canada Inc. Though the trip costs more than it normally would, with many airline reward programs, the number of frequent flier miles you'll need to redeem to pay for the trip has stayed about the same.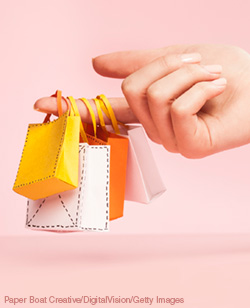 Rely on points to pay for trips when possible, Campbell says. "They're a better value."
In addition, he says, the accrual rate for credit card points rewarded
per dollar spent is lower for Canadians than for our American counterparts. Americans pay about US$1 per point. But, based on the current exchange rate, Canadians are only spending about 75 U.S. cents to earn one reward point. For example, if you spend $100 in Canada using one of a typical rewards card, you'll receive 100 points.
If you take that same card to the U.S. and charge US$100 to it, that converts to about $125 to $130 Canadian, so you'll get 125 to 130 points -- because you get 1 point per Canadian dollar spent.
Of course, that's not much of a silver lining if we're spending more money overall, and Campbell says he is seeing fewer clients request trips to the U.S. or Western Europe.
Shop strategically to take advantage
However, the weak dollar hasn't stopped Keith Pitts, snowbird and author of The Canadian Cross-Border Shopping Guide, from doing the bulk of his shopping in the U.S. He says he's saving money and boosting his points-earning power to boot. He employs two tricks to take advantage of the silver lining, without breaking his budget:
1. Bargain hunting.
Pitts plans shopping trips a couple of weeks in advance and figures out everything he needs: groceries, personal care items, clothing, alcohol and big-ticket items. He then goes online and finds the sales, coupons and special offers. "Little things like toothpaste really add up," he says.
It's much easier to find bargains in the U.S., he says. For example, unlike in Canada, you can pair manufacturers' coupons with store coupons and drastically reduce the price of items, especially if they're also on sale. He also signs up for all the store loyalty programs, which he says are more generous in the U.S. than in Canada.
"You have to know where to shop," he says. "Hit the sales. Shop the clearance rack."
Doing this allows him triple benefits -- he saves money upfront, earns in-store rewards, and racks up his credit card rewards.
2. Avoiding card fees where possible.
Campbell recommends getting a credit card that doesn't charge a foreign transaction fee, which is the fee many credit card issuers charge for using your card out of the country. Most Canadian cards charge at least 2.5 per cent on every international purchase. However, there are a few cards that do not have this fee.
This doesn't protect you from losses due to the exchange rate, so if you do use a Canadian dollar credit card at a U.S. store, "always get charged in U.S. funds," Pitts says. The credit card networks give a better exchange rate than if you allow the store to charge you in Canadian dollars at the exchange rate it sets.
You might also consider getting a Canadian U.S. dollar credit card. You'll want to compare annual fees as well as perks, which might include travel insurance. Keep in mind that you will be paying these in U.S. funds, so plan ahead and convert cash to U.S. dollars when the Canadian dollar is stronger, Pitts says.
Shop for what you need, not for the rewards
Don't rush off on a shopping spree just to rack up credit card points. While the accrual rate on those rewards may make them seem like a bargain, the lower loonie means that Canadians are paying more for goods in the U.S. and for imported goods in Canada. Those points might not be as much of a bargain as they appear.
But you don't have to be afraid to take a trip across the border. Use travel rewards where possible and plan ahead of time to get the best value for your dollar.
See related: How to make the most of your Air Miles rewards, 5 basic rewards-chasing mistakes
Updated June 10, 2016
Most recent Reward Programs / Cash Back Cards Stories