1 in 5 don't shop online for fear of fraud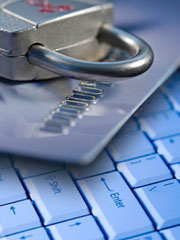 People are becoming more reluctant to trust their finances to virtual accounts, according to a recent report published in an issue of the International Journal of Business Governance and Ethics
Canadians who routinely shop with online businesses are increasingly worried about identity theft and fraud, say Susan Sproule and Norm Archer of McMaster University, Ontario.
Scam artists employ a variety of tricks, from phishing for log-ins, credit card skimming, insider theft, digital counterfeiting and ID trafficking. For those Canadians who get entangled in these virtual webs, it can be quite costly and time-consuming to take the time to clear their names.
The McMaster team set up a model of the variety of methods fraudsters use to take advantage of online users and reported the results in a recent survey of Canadian consumers. When looking at fraud involving new and existing bank accounts, credit cards and other sources, one in five people have stopped or reduced their amount of online shopping. One in 10 Canadians are no longer banking online or have reduced the amount of online shopping that they do because of fraud worries.
"These findings are of concern to business and government," Sproule says, "since, if consumers stop doing business online, the productivity benefits of e-business will not be realized." Previously, the information on the effects of identity theft in Canada were unknown, and there were few efforts from the academic community to analyze the situation. Sproule adds, "It was believed that, if unchecked, the problems around identity theft and fraud could have a significant effect on e-commerce."
Sproule and her team have been involved in a program that has brought together researchers from a range of universities, plus pertinent experts from the financial and telecommunication sectors. The research produced will help identify processes involved in online identify theft and fraud.
Their model of online cyber crime has identified ID theft and fraud as valid issues, which will enable legislators to produce new laws to pursue this new breed of criminal.
Educating the public can best arm them with ways to protect their valuable personal data, and build their confidence in conducting secure online shopping transactions.
Written by Melanie Dixon.
Published October 26, 2009
Most recent Legal, regulatory, privacy Stories