6 ways to improve your credit score
A bad credit history doesn't have to be a life sentence. It's true that financial missteps such as late payments, bankruptcy, foreclosures and repossessions can stay in your credit report for up to seven years. However, there are steps you can take to clean up your credit history.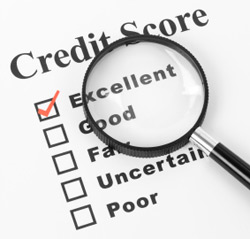 "You can absolutely turn things around for yourself," says Laurie Campbell, executive director of the credit counseling agency Credit Canada. "But a key ingredient in improving your credit history is patience and perseverance; it won't happen overnight."
Campbell offers these tips for getting a second chance to improve your credit rating:
1. Sign up for a secured credit card. A secured credit card is one that's secured by the funds you deposit with the card issuer or a financial institution. What's more, the card's credit limit is set by the amount you deposit. "A secured credit card will show up on your credit history as a regular card," says Campbell. "However, secured credit cards are much easier to qualify for if you have a poor credit history and then you can use it to start to build some positive credit history information."
2. Apply for a Registered Retirement Savings loan. An RRSP loan won't only help you maximize your retirement plan contribution, but because of its typically low-interest rate, Campbell says, "you can repay it within the year and that'll automatically show some positive credit history as well."
3. Don't act desperate. "There are a lot of organizations out there that say they'll fix your credit record and help you repair it," warns Campbell. "Do not be a victim and do not fool yourself into believing that it will not take the appropriate time." It is legally impossible to alter an accurate credit history.
4. Limit the number of credit cards you own. It's a little known fact, but even if you pay off your credit cards regularly, possessing too many cards can tarnish your credit history. "A creditor can say that you have the potential to get yourself into high debt because you have five credit cards with a $7,000 credit limit on each," explains Campbell. "The thinking is that you could get yourself into debt for $35,000. Sure, your balance may be sitting at zero on all of these, but a potential creditor could suggest that's too much open credit."
5. Meet with a credit counsellor. "A credit counsellor can not only give great tips on how to manage your money better, but will provide you with ideas on how to ensure you don't do further damage to your credit rating," says Campbell.
6. Quit applying for multiple credit lines at once. "Understand that inquiries, if they're extensive and in a short period of time, could look damaging on your credit rating," says Campbell. "It could look as if you're surfing for credit or trying to amass a whole bunch of different types of credit. Stop making inquiries and your credit rating will improve."
Published November 19, 2010
Most recent Bad Credit / Credit Repair Stories