Start holiday shopping early to save money, avoid debt
You may be decorating pumpkins, but some people are already seeing green and red. While Christmas and other December holidays seem ages away, three months isn't long to spread several hundred dollars' worth of spending.
According to BMO's 2014 Holiday Spending Outlook, a third of those surveyed said they would start Christmas shopping before the month of November. Scott Hannah, president and CEO of The Credit Counselling Society says early birds are doing the right thing for their credit card bill. However, the majority of shoppers in the BMO survey said they were going to shop in the last two months of the year.
It may not be easy to get in the holiday spirit before November, but if you do, you may be able to save yourself the usual credit hangover come January.
Make a plan and budget
Hannah says the Credit Counselling Society runs a Christmas in July workshop that shows participants how to map out their Christmas spending and set a budget. For many, Christmas is such a blur of activities they forget how they got from December to January, so this workshop gives people a chance to plan what they're doing well before the holiday rush.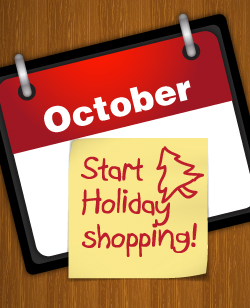 Even if you missed the workshop, you've got time to take steps before December that will lower your chances of holiday debt. "It's important to figure out, 'What does Christmas look like?' says Hannah. "Ask yourself what happened last year and what changes would you want to make and give yourself time to do that."
It's important to consider more than gifts. Your plan should include travel expenses, party expenses, seasonal activities, food and décor. "You need to have an overall budget based on all the activities you'd like to do and once you determine all of those activities, then you can put a dollar limit to it," says Hannah. What usually happens, he says, is people find they're planning to spend way more than they can afford, and have to make cuts and adjustments until they find a figure that's realistic.
Make changes until your holiday budget fits your income
From there, it's time to determine what changes you want or need to make. For example, you may buy a gift for every aunt, uncle, cousin and second cousin each year, and when you aren't tracking each expense, it can easily melt into hundreds of dollars' worth of gifts. Once you spell it out on paper, you may receive a shock at how much it costs overall to give everyone a "reasonable" $20 gift.
Hannah suggests holding a gift exchange with a set dollar limit instead. Planning early is key, especially if this means changing some traditions. Organize a new gift-giving policy now, and everyone has time to get the memo and shop accordingly.
"You can't have those conversations on December 10th when it's too late," Hannah says. "But, when you have lots of time, you can reduce the cost of Christmastime with minimal impact on the fun and festivities."
Other advantages to starting early
Starting your planning early can also help manage young ones' expectations, Hannah says. For example, when his children were younger, he would tell them to make a list, then later, he would have them revisit it and prioritize, suggesting they choose a top three. If you do this, you'll have a manageable list with things your children truly want, rather than a page-long document influenced by every holiday advertisement on TV.
Additionally, if you start shopping now, you can avoid going to too many retailers in December and being tempted by deals on items you don't need. You may find when you're shopping close to the deadline, you're grabbing stuff for the sake of having a gift, instead of taking your time, price matching and finding the best deal. When you shop in a rush, you're more likely to grab something a little pricier, or you may see prices go up on hot-ticket items as December 25 draws nearer.
Just be sure once you're done, you're done -- no backtracking and thinking, "I have some extra room in my budget, maybe I should add to Grandma's gift," or, "I guess I could grab a little something for my third cousin after all."
When using credit, do so wisely
As you're doing your holiday shopping, Hannah recommends keeping a running tally of how much you're spending so you can stay within your budget. While doing this, you may find even your best-laid plans can fail. You may get halfway through your list and find your budget is gone, or you may do all your gift shopping but find you have nothing left for holiday parties and activities. If you have to rely on credit, be sure to use it wisely.
You could take advantage of a credit card that offers 0 per cent interest on purchases. Then, you can start paying down the debt slowly in the months leading up to and after Christmas, and you won't be hit with a huge bill all at once in January. This is also likely a better option than transferring the balance to a 0 per cent interest card after the holidays, as you won't have to pay a balance transfer fee.
Can't get a good deal or just don't want to apply for a new card? It's OK to use your existing credit card, with one caveat: "If you are planning to use credit this year, spend no more on credit than what you can comfortably repay within the first three months of the new year," says Hannah.
See related: Be nice, not naughty, with holiday spending, 4 holiday credit hangovers to avoid
Published October 8, 2015
Most recent Shopping Stories