Survey: Making cents of the latest Canadian debt statistics
When Investors Group conducted an online panel survey on debt between April 27 and May 8, the Canadian financial services company knew that many Canadians would be struggling to make ends meet. However, what Investors Group couldn't have anticipated was a split between those whose bills are keeping them up at night, and others who believe their debt will have a positive future impact on their life.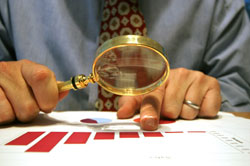 Jack Courtney, Investors Group's assistant vice-president of advanced financial planning support, walks us through the survey's surprising findings and explains what they mean for our financial future.
Survey findings:
The majority of Canadians (75 per cent) who are in debt believe it will have a positive impact on their life.
Yet 58 per cent of Canadians with debt feel uncomfortable, even though they acknowledge they can live with it.
And one-in-three Canadians with debt (33 per cent) admit to losing sleep over their debt load.
"Debt financing can be helpful in purchasing a home, funding education or, in some circumstances, financing investment purchases," says Courtney. "However, personal debt can also significantly restrict the ability of Canadians to save and invest for retirement and reach other important goals. Accumulating debt with a purpose and with a plan for re-payment isn't a bad thing -- but spending beyond your means without a plan can have a negative and lasting impact on the health of your financial future."
Survey finding:
Paying off consumer debt such as credit cards is the greatest priority for 57 per cent of Canadians with debt.
"Canadians should take a step back and look at the type of debt they have accumulated," says Courtney. "It's crucial that you first take charge of all credit card debt, check impulse purchases against what fits in with your overall budget and ensure that re-payment is well-planned and fits with your larger financial goals. Credit card debt can be the worst kind of debt out there. If you are buying more than you can afford, that's going to cause you problems. If you spend more than you pay off and add the interest to that, and often the interest could be 20 per cent or more, then your balance will continue to go up."
Survey findings:
The majority of Canadians with debt (73 per cent) say they have some idea about how they will pay what they owe.
When asked for details, 35 per cent said they simply plan to curb their spending.
"It's not realistic to assume you can pay off all your debt tomorrow," Courtney notes. "But by taking control and establishing a plan you can reduce your interest costs. To do this, you could consider consolidating your debt, especially the highest interest rate debt, like your credit card debt or car payment debt, into a secured line of credit with lower interest costs. However, you need to be disciplined enough not to run up your credit cards again. Fortunately, a financial advisor can help develop a long term financial plan that includes managing, reducing and ultimately eliminating personal debt."
See related: The top 5 reasons why you're unable to save; 4 ways to spring clean your finances
Published May 26, 2011
Most recent Research / Statistics Stories