Should you switch careers while in debt?
No matter how good your reason is -- you're not satisfied at your job, your position is phased out in a dying industry, or you need to change professions to pull in more income -- switching careers may seem like an unrealistic endeavour, especially if you're carrying debt. But it's not impossible as long as you look at your situation critically.
Alexandra Macqueen is a case in point. When she was 34, she had a fulfilling job working on land claims and treaty rights for an Aboriginal organization for 13 years, but she knew she needed a change. However, she had a newborn and a toddler, a mortgage and little savings set aside to pursue her new profession as a certified financial planner (CFP). She followed her intuition anyway and forged her new path.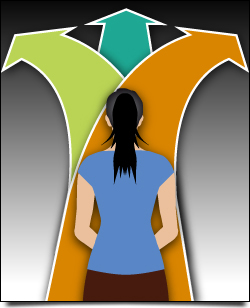 "We had a lean couple of years because no money was coming in
and I was spending on tuition, but it was an investment of my time
and money and I knew it would pay off," Macqueen says.
"A career change can be difficult to pull off, especially when people have mortgages, credit card debt or other financial commitments," says Avra Davidoff, a career counsellor at Calgary Career Counselling. "They can feel like it's very comfortable where they are and wonder if their switch will provide them with what they have now."
Here are two important questions you need to answer before you dive into changing careers while carrying debt:
1. Can you afford it?
"Financial advisors might say not to take on debt that's more than
what you're making in your first year of a new job," says Davidoff. "If you have a dying career that's going to be replaced or automated, you might not have a lot of say."
A career change is costly in many ways: you could be pouring money into higher education, taking a pay cut or even committing to unpaid work to get a foot in the door. You have to ask yourself honestly if you can afford these sacrifices to your income, says Scott Hannah, president of the National Credit Counselling Society.
"It's really about sitting back and looking at the situation, even if it means delaying your decision [to pursue a career change]," he says.
If you're dealing with debt, you need to address your money woes before you proceed with your career change goals. That could mean consolidating your debt and getting help from a debt counsellor.
You also need to set aside emergency funds -- about three to six months' worth --in case your new career goes awry. You could graduate and spend months looking for employment or you might not make it through the probation period in a new job.
Finally, you may need to save up for any training you need to pay for.
Be sure to do your homework -- some employers have programs that pay for upgrading your skills. Another solution is to make the change gradually. Night courses, online courses, volunteering on weekends or taking on freelance work until you can make a full-time transition are all viable routes.
"It's important to explore whether it has to be an all-or-nothing shift," Davidoff says.
2. Is it worth it?
Determine how much time and money you'll need to spend on your new career. Macqueen spent about $2,000 on CFP courses that required a year of studying. She gave up her maternity leave pay because she left her steady job -- another cost.
Her days started at 5 a.m. so she could cram in study time before her kids woke up. Her family lived on her husband's single income until she got back into the workforce, but the couple did a careful evaluation and realized that these compromises were worth it.
Davidoff suggests networking with employers and people who work in positions you're seeking. You might learn that your skills are already a good match for the position.
You also need a good grasp of the employment situation in the field you're considering before you commit to, say, a master's degree. If you're putting your energy and funds into changing careers, you'll want a return on your investment.
Factor in your happiness, too, Macqueen says. "You're going to stay there until you're 60," she says." You have to make sure it's something you can tolerate so it's a sign if you can't take it at work emotionally."
Being unhappy will also affect your debt and spending habits, Davidoff notes.
But personal satisfaction is minor if your new career won't be lucrative enough to recoup the costs of getting it. For instance, Hannah had a client who completed an MBA that set him back $60,000. Because he went back to school later in his life, he realized he wasn't going to recoup that cost while starting a new career.
"It offered personal satisfaction but it wasn't a good decision," Hannah explains. "From the long-term perspective, it was terrible because he's faced with unresolved student debt and bankruptcy."
Before you go into debt to change fields, it's also worth asking if it's simply your workplace environment that's making you crave change. In that case, a change of scenery instead of a career shift may be the cheaper, less time-consuming resolution, Davidoff says. Look for a new position within your current organization or a similar job at a new company, and save yourself a lot of money and time.
See related:
Will a higher income solve debt problems?
,
Child care costs and debt: Stay home or go back to work?
Updated April 7, 2015
Most recent All credit card news Stories