New banking, payment technologies offer accidental accessibility
Technology has made most people's financial lives more convenient and stress-free than before. This may ring even truer if you're a person with a disability.
This reporter can attest to that. As a person with cerebral palsy who uses a mobility scooter, sometimes it's difficult for me to get close enough to the cashier's counter in a store to properly reach and read the payment terminal. Now, however, tap-and-go payment technology makes it easy for me to pay without needing to see the terminal.
Working with banking technology is a challenge, too. For instance, I'm often unable to deposit cheques in traditional ATMs that require envelopes. It's getting easier, though, now that there are bank machines that don't require envelopes at all for deposit,
Furthermore, some banks allow you to deposit cheques anytime, anywhere via smartphone, using eDeposit. For some people with disabilities, it's an ordeal just to leave the house, so to be able to deposit cheques right from your own home means a crucial process of life is much easier.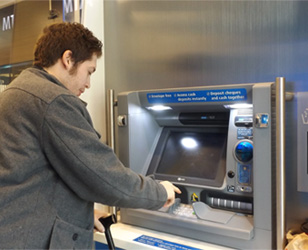 Photo by Brit Theis
Reporter Aaron Broverman uses one of BMO's enhanced ATMs in Toronto.
A happy accident
As helpful as these technologies are for disabled Canadians, none of them were developed specifically for people with disabilities. Any benefit a disabled person might receive is likely just an accidental by-product of trying to improve banking and payment processes for everyone -- disability or not.
"Even though we do see an increased sense of corporate responsibility to improve access to people with various disabilities, I think that it's also the combination of various factors that ultimately makes apps and services more accessible," says Eduard Sanchez, CEO of Code Factory,
a company providing accessibility consulting for mobile applications. "In most cases, it's not that the app developer has done anything special to make the app accessible ...
it's simply accessibly by 'happy accident,' as you say."
Jonathan Magder, financial services payments lead at Accenture Strategy, which consults on payment technology in banking and retail, says the motivation behind the drive toward more convenience is simply to draw more customers.
"Ultimately, you have to give the right seamless, elegant customer experience to get customers coming in," says Magder. "You want them coming in more frequently and, in retail, you want them to spend more when they do."
In addition, the more streamlined certain processes are, the more money banks and retailers potentially save.
"The banks want to do this to help customers, but they also look at it from an operational cost standpoint," says Magder. "The fact that they don't have to physically tear open envelopes saves time. You see the same thinking with eStatements, which are convenient for the customer, but also save printing costs for the bank."
A more accessible future
In the future, those who benefit will see more accessibility, not less, as technology becomes more sophisticated.
For example, NRC Corporation -- makers of BMO's enhanced envelope-less ATMs -- are coming out with an ATM that you won't even need a debit card to access. Instead, the entire transaction takes place within the bank's mobile app and when you arrive at the ATM, you'll simply scan your phone with a two-dimensional barcode and your money will come out.
Combine that with the $64.9 billion Canada's six major banks invested between 2005 and 2014 in specific accessibility technology -- such as audio ATMs, TTY (text teletype) banking and braille -- and banks are on track to become more user-friendly than ever for the disabled.
There are also developments coming to retail payments. Some payment technologies, such as biometric technology and mobile payments, are already taking some of the stress out of making payments. It's easier for certain disabled people to tap their phone or a wearable payment device against a payment terminal than to dig for a wallet, extract a card, swipe the card, enter a PIN, and return the card to the wallet.
And more retail technologies are on the way. Someday, instead of struggling to reach a payment terminal from a wheelchair, customers with disabilities may enjoy an Uber-like experience in which no money changes hands. Instead, charges to their credit card will appear on their phone as soon as they leave the store.
"That's the hope," says Magder. "If we can get to the point where your card is automatically charged as you walk out versus having to fish it out, I see that as being very beneficial."
While that's still a goal retailers are working toward, there are similar solutions already at work. For instance, in the U.S., a device called Scan It allows you to scan each item as you put it in your grocery basket, then you upload your bill at a self-checkout station at the end of your trip. In South Korea, Tesco launched a virtual shopping wall, which allows you to stand in front of a digital screen, scan in products you want to buy into your smartphone, pay from your phone and choose home delivery options. Finally, in an example closer to home, Starbucks launched its mobile order and pay technology in Canada in October 2015, which allows you to place your order and pay via smartphone, then walk into the store and grab your drink without waiting in line.
"While I do believe that this could be beneficial to the average consumer from a 'save time' perspective, I imagine this can be especially beneficial for those who can't physically wait in long lines, have speech impediments and have trouble speaking to a barista or have poor sight and have trouble reading a menu," Magder says.
Though it will take time for some of these technologies to roll out en-masse, as many are still being piloted, eventually people with disabilities will be able to reap more accidental accessible benefits.
"What banks are really thinking about is how can they increase overall accessibility to drive more inclusion and that includes everyone -- certainly persons with disabilities, though it's not limited to that," says Magder.
See related:
Mobile wallet market still disjointed
,
Face value: Biometric verification gains speed
,
4 ways to make digital convenience work for your budget
Published February 12, 2016
Most recent Product Features Stories