The tax season paper chase: What you need and how to stay organized for next year
Spring means the April 30th tax deadline is around the corner (though, for 2017, you get until May 1). It's time to pull together all of your documents and records, do your research to see what tax breaks apply to you, and file.
Though it may be a bit rushed this year, organizing your financial documents now could be the first step toward a timely tax filing next year and the years to come. Here's what documents you need to have on hand, tips for organizing them and how to destroy documents when you no longer need them.
Getting started
"Take your time with your tax return and don't do it all in one sitting," says Brian Quinlan, a certified professional accountant and partner at Campbell Lawless LLP. "You can key in tax slips first but then, in a second sitting, look at how to make the return better."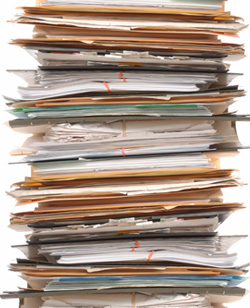 Similarly, take your time getting all your documents together before you sit down to file. You don't want to leave out an important document because you're rushed.
There's a laundry list of documents you'll need for your taxes, but some of the basics include:
All tax information slips: T3s, T4s -- which include group pension adjustment amounts -- and T5s. These documents go over your income, pension, and investments.
Last year's Notice of Assessment.
All charitable donation receipts.
Details of student loans and interest incurred (if they are from provincial or federal student loan programs).
Receipts for medical expenses, bus passes and transit usage reports, textbooks and supplies for school or professional upgrades, daycare receipts, and even receipts for arts and sports classes for your kids.
"It's hard to say what is most important," says Rocky Colangelo, a certified professional accountant based in Toronto. "You need all of your relevant information, which is different for everybody."
Quinlan says to think of changes in your life in the last year: did your parents move in so you could be a caregiver? Did you become a parent? Did you just start school or start a business at home? Did your kids start a new sport? All of these life changes come with tax breaks that could add up on your tax refund.
"There are credits for these changes that are taxpayer-friendly," Quinlan says. "The government won't know you're entitled to them, so it's up to you to know you can take advantage of them." Doing your research could save you thousands of dollars on your return, he says.
Debt also plays a part in your statement under specific circumstances. The interest paid on your student loans -- as long as they're government-provided under the Canada Student Loans Act -- can snag you a tax credit.
Credit card statements won't be used in your tax return, but they're a great point of reference to monitor spending, Quinlan says, so it's wise to keep them with your other financial documents.
Staying organized
Keeping organized can help to maximize your tax refund, says Jeffrey Schwartz, executive director of Consolidated Credit Counseling Services of Canada. However, it's also wise to keep all tax-related documents together to make filing easier and to ensure you don't make any mistakes.
Many people simply don't know the basics of financial document storage. However, it's easier than you think to come up with a system. Schwartz offers these tips:
Allocate a single place in your home for document filing. If you don't have an office, designate a drawer, cabinet or shelf for financial documents.
Every January, create a new tax folder in which to keep track of taxable paperwork, such as receipts and deductible expenses, as they occur throughout the year.
Prioritize your documents so that things you use during other times of the year, such as insurance policies, are handy in the event of an emergency.
Categorize your documents - don't simply stuff them all in a drawer. You can try an accordion folder, a drawer with dividers in it or even separate folders or binders. You may consider investing in a small filing cabinet.
Disposing of personal information
After a few years, you might find your cabinet or shelf bogged down with documents. Before you go on a cleaning spree, though, Schwartz suggests keeping in mind these rules to determine whether it's safe to toss documents:
Hold on to your credit card statements for a total of seven years if they include tax-related receipts.
All tax-related documents and relevant support have to be filed for six years, according to the Canada Revenue Agency.
Alterations can be made to your tax return for up to 10 years, so if you need to dig open a case, you can file a claim adjustment with supporting documentation.
If your documents are truly past their usefulness, it's time to toss them. Do not simply toss your documents in the garbage, as that leaves you at risk of identity theft.
"We recommend all personal documentation be shredded," Schwartz says. "It's the most effective method of document destruction and avoids having the wrong person have access to your personal information."
See also: Clear your clutter, improve your finances; What to keep, what to toss
Updated April 21, 2017
Most recent Credit Account Management Stories