Moving abroad? Tie up loose credit, debt ends
If you're making a move across international borders, you can't leave loose financial ends. Perhaps you have credit card debt, student loans, a line of credit or all of the above, plus Canadian income still coming in, or investments and assets tied up with your bank.
"When you leave your country, it's stressful," says Alain Forget, vice president of U.S. sales and business development with Royal Bank of Canada. "It's a lot of things to deal with and you can't neglect your financial issues ."
Forget knows what he's talking about: In 2000, he and his family moved to the Bahamas to lead a project with RBC. Then, they immigrated to Miami where he now helps Canadian expatriates with banking in the U.S.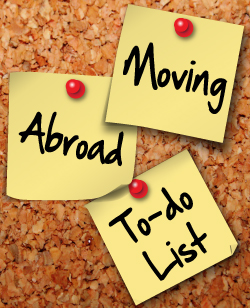 He and Jocelyn Hsiung, head of B.C.'s branch network for HSBC Bank Canada, have some tips on how to move your finances smoothly.
1. Plan ahead.
You'll need at least three months of planning before your big move, Forget says. Book an appointment to get your visa, establish your banking arrangements ahead of time and house hunt in advance so
you aren't scrambling for a place to live upon your arrival. Forget says
it takes up to 45 business days to secure a mortgage in the U.S.
You may not get approved for a credit card straight away, either -- Forget says it took two months for him to get a U.S. credit card -- so you'll need a cash cushion because moving comes with hefty costs. Even if you have a Canadian credit card that works in the U.S., the costs of moving may exceed your credit limit -- plus you'll be paying foreign transaction fees and currency exchange rates. If you can't arrange American banking ahead of time, try to earmark savings to cover these costs.
2. See if your bank has a partner in your host country.
You'll need to prove to creditors in your new country that you're a responsible candidate, which is a challenge for many expats because all their financial history is in Canada and may be irrelevant in foreign nations.
A bank account, credit card, mortgage and some type of payment history can prove your responsibility to new creditors, but your best bet is to see if your home banking institution offers banking services in your new country.
RBC, for example, pulls credit history from Canada and the information is "fully recognized" in the U.S., Forget says. "We connect both accounts, so you can transfer dollars, pay bills online, pull your credit history from Canada to secure a credit card or mortgage," he explains.
Hsiung says HSBC has its own Global View and Global Transfers service so consumers can view, manage and transfer money between HSBC accounts in more than 30 countries.
3. Keep your Canadian accounts active if you plan to return.
Short-term expats need to make sure they have a soft landing when they return home. If you know you'll return to Canada, keep accounts open, especially those that have been open a long time. "You'll need your cards and you'll need your credit history to buy a car or a house," Forget says. "You don't want that to be an issue."
Additionally, if you plan to keep a mortgage or other bills running in Canada, you'll need to be able to pay them. "Expats might expect to have two bank accounts," Hsiung says. "[An] account for financial commitments at home, such as mortgage and utility bill payments and rent collection, and a local bank account in the country [you're moving to] for your [new salary] and for day-to-day expenses."
4. Arm yourself with legal knowledge.
Forget says snowbirds heading to the States can enjoy the warm weather without any tax, immigration or legal issues as long as they're there for less than six months.
Each country has its own set of terms when it comes to immigrants holding onto assets and property in both nations. Your job is to do thorough research or hire an accountant or financial planner who can sort out what to do with your assets, such as property, retirement funds, stocks and bonds.
Forget says he had to liquidate some of his assets, but he kept in touch with his advisers to make sure he had his finances in order should he move back to Canada. He calls that a re-entry financial strategy.
"It's not complex, but it's an area where you need to seek professional advice," he says. "You may have to report things you own in Canada to the [Internal Revenue Service] in the U.S. [as well as] the Canada Revenue Agency, or you could be exempt through tax treaties. If you don't do these things properly, you may come across penalties."
5. Get tech-savvy.
To avoid mail mix-ups when you have bills from two countries, get your bills and mail via email.
"Take advantage of automatic payment options offered by your home country financial institution and look for a service that allows you to view these past and pending transactions easily online," Hsiung says.
It's also wise to set up bill pay (automatic or manual) online as well. If you have a cheque, most institutions allow mobile or remote deposit; you can take care of money transfers online as well.
See related: Rebuild Canadian credit after living abroad, How to cope with foreign transaction fees
Published July 28, 2015
Most recent All credit card news Stories