Sorting fact from fiction about unpaid U.S. debts
Hundreds of thousands of Canadians who have lived in the U.S. and many of them end up getting an American credit card. (See How to get a U.S. dollar credit card). Those cards carry obligations that don't necessarily end at the border. Unpaid credit card bills can cause troubles back home -- and in the U.S. if you plan on returning to the States.
Although credit bureaus in Canada and the U.S. maintain separate reporting databases, if you've had a U.S. address and an American credit account, you will have a U.S. credit report. Delinquencies remain on your U.S. credit history for six or seven years.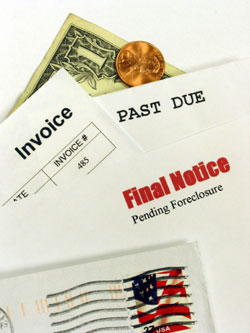 They may follow you to Canada, too. Scott Hannah is president and CEO of the Credit Counselling Society and a former member of management at the credit reporting bureau Equifax Canada. He notes that, while costly, an American company can seek a legal judgment in the state where you incurred the unpaid debt and then ask that provincial courts where you now live recognize a successful U.S. legal judgment. A provincially recognized judgment will show up on your Canadian credit reports.
Even if there is no court judgment, Canadian creditors may still choose to obtain a copy of your U.S. credit report. According to Hannah, this typically happens when you apply for credit in Canada and the financial institution is aware that you previously worked or resided in the U.S.
On top of that, an American creditor can turn to a collection agency, provided that agency is properly licensed in the province where the debt collector contacts you regarding outstanding debt. "Some U.S. collection agencies also have offices in Canada and will refer delinquent U.S. accounts to their Canadian offices, [which] tend to be more familiar with [local] laws governing collection practices," says Hannah.
Border concerns
Things can get even more complicated if you have lingering bad debts in the States and want to return to the U.S. after some time back home. One Canadian who posted on a City-Data.com forum was in just such a spot. He said he was working in California on a temporary work visa but was forced to resign and headed back to Canada with $12,000 in U.S. credit card debt.
It took him months to find a job on his return, and all the while he was ignoring his U.S. credit card bills. He would like to return to California but is petrified by the nightmarish prospect of arrest by American border guards alerted to his delinquent credit card accounts.
Those fears are generally unfounded, according to Andy J. Semotiuk. Semotiuk is an immigration lawyer with Pace Law Firm in Toronto, and is also associated with a Los Angeles-based legal practice. He says a person's credit record is usually not an immigration issue.
"Debts are not normally one of the considerations taken into account in immigration applications since they are based on contracts, and the breach of contract involved is a civil liability," Semotiuk wrote in an email. Asked whether an immigration application backed by an existing job offer in California would override outstanding debt considerations, Semotiuk replied, "Almost in every case the answer would be yes."
Of course, egregious criminal acts associated with outstanding debt are a different story. Semotiuk explains, "If ... the acts of the debtor were so outlandish that they attracted criminal prosecution, such as if fraud was involved à la Bernie Madoff, then an arrest warrant would be triggered on entry into the United States."
Beyond the border
Just getting into the country is one thing. But living in the U.S. with unpaid debts is another matter. A U.S. credit history tainted with delinquent debt can be a deal breaker for Canadians hoping to work south of the border. According to a 2010 poll from the Society for Human Resource Management, 47 per cent of American organizations conduct credit checks on select job candidates.
Even if you land a work permit, that doesn't mean you're immune to debt collection efforts upon arrival in the U.S. The Credit Counselling Society's Hannah says that a Canadian visitor who fails to cooperate with an American creditor can expect serious consequences. "I would suspect that the creditor would strongly consider taking legal action against the consumer with the intent to garnish their wages to recover the debt and seize any allowable assets in the consumer's name that were domiciled in the U.S."
Resolving unpaid U.S. debt issues
If you're uncomfortable dealing with outstanding U.S. debts on your own, Hannah advises contacting a non-profit, accredited credit counselling agency as a first step to addressing the problem.
"Early and transparent communication of a consumer's financial situation to their creditors can make the difference between a creditor who works with you to resolve your account balance over time versus having the creditor refer the consumer's accounts to a collection agency."
Immigration lawyer Semotiuk is succinct about what a Canadian with delinquent U.S. bills can do to improve chances for unencumbered visits: "Pay off his debts as best he can."
See related: How to get a U.S. dollar credit card, Credit report tracking critical for Canadians
Updated February 8, 2013
Most recent Bad Credit / Credit Repair Stories