Ban on unsolicited convenience cheques highlights dangers
Like the mirage of cold water in a sweltering desert, an elegantly designed envelope filled with unrequested promotional cheques can trick financially stressed consumers into acting as if they'd won a lottery.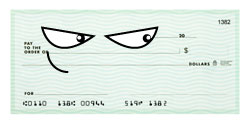 That questionable marketing ploy became illegal in Canada on June 21, 2013.
The revamped Credit Business Practices Regulations now forbid federally regulated financial institutions from unilaterally sending out "teaser" convenience cheques. The Financial Consumer Agency of Canada (FCAC) says Canadians can still ask for and use credit card cheques, but emphasizes that we should carefully consider consequences before doing so.
The ban goes into effect within weeks of credit bureau TransUnion's announcement that, as of March 2013, the average Canadian's non-mortgage debt hit a near-record $26,935.
"This new regulation will assist consumers in understanding their responsibility toward the use of credit," says Patricia White, Credit Counselling Canada's executive director. "Previously, consumers would just use the credit card convenience cheques without really understanding the cost and conditions associated with these products."
Costly convenience
They look like personal banking cheques; in reality, convenience cheques are cash advances that accumulate interest and fees as soon as they're posted to a cardholder's account.
"Credit has become so ingrained in our consumer society that people forget that any form of credit comes with a cost attached," comments White. "Because the product is offered for free, consumers think they can use it for free."
Complimentary cheques are sometimes bundled with balance transfer promotions featuring attractively discounted rates, making consumers even more confused. For example, first-time customers who use President's Choice Financial (PCF) MasterCard convenience cheques for a balance transfer within 90 days of account approval are eligible for a 0.97 per cent APR. After 6 months, that interest rate spikes to 21.97 per cent.
Customers who use those same PCF convenience cheques for any purpose other than an eligible balance transfer must pay the 21.97 per cent cash advance rate from day one.
Convenience cheques can unleash a myriad of other charges. Among the 45 cards we perused via the FCAC card selector tool, 38 impose cash advance fees costing up to 1 per cent of the convenience cheque amount with a minimum $7.50 charge. Here are the seven that didn't:
Visa Desjardins Platinum
Desjardins Visa Modulo Gold
Desjardins Low Interest Rate Visa Desjardins Classic
Desjardins Low Interest Rate Visa Desjardins Classic with Bonusdollars rewards program
Desjardins Low Interest Rate Visa Elegance Gold
Prospera Credit Union Low Interest Rate Visas Elegence Gold with 1% Bonusdollars
Pity the hapless cardholder who writes a convenience cheque exceeding their available credit limit or is otherwise declined: PCF collects a $25 penalty per dishonoured convenience cheque and adds a $25 over-the-limit charge if you're over the credit limit on the statement date.
An identity thief's dream
In the past, unsolicited convenience cheques typically had pre-filled cardholder information. In other cases, personalized teaser cheques were part of a presumptive sales application targeting prospective new accountholders.
The dangers posed by identity fraudsters intercepting and misusing their victims' credit card cheques became so great, the Office of the Privacy Commissioner of Canada posted the following advice about convenience cheques near the top of its Identity Theft Checklist:
"Destroy any unwanted pre-approved credit card applications that arrive in the mail and instruct your bank not to mail you unsolicited convenience cheques."
Those steps are no longer necessary, but if you have any convenience cheques sent before the ban, they should be safely destroyed and discarded.
A payment tool of last resort
Despite these dangers, dire circumstances such as life-saving medical treatment may push you to use credit card cheques.
Money expert Gail Vaz-Oxlade allows that convenience cheques might be used in an extreme emergency. "Sure, if you're prepared to pay the price, not whine and get it paid off as soon as possible," said Vaz-Oxlade.
"Credit card interest is always one of the highest rates going - often, even the lowest [card] rates are higher than other rates," adds White. "Consumers need to weigh the cost of using the convenience cheques where the interest is charged immediately versus other methods, such as an overdraft or a line of credit, that are less expensive."
Ongoing temptations
While prohibiting unsolicited cheques is a step in the right direction, convenience cheques still represent a potential trap for undisciplined consumers.
A TD Canada Trust credit card specialist confirmed that, while the bank no longer includes convenience cheques as part of its direct marketing campaigns, customers can still expect to receive balance transfer offers in the mail. Those promotional materials will specify contact information and instructions for requesting convenience cheques.
Cardholders must request the special-offer cheques, which typically have promotional details printed on them. Otherwise, regular cash advance rates and fees will apply.
The FCAC says consumers should ask these questions before committing to any credit card cheque:
Is interest charged from the date the cheques are used?
What is the balance transfer fee?
How long does any promotional low-rate period last?
What interest rate applies after the promotional period ends?
"Personal finance doesn't come intuitively to everyone," cautions White. "Informed decisions can only come from understanding the details of your personal finances and where the money will come from to pay for the extra costs."
See related: Canada's new bank rules and what they mean for you; 7 surprising facts about your credit score
Published June 28, 2013
Most recent All credit card news Stories